Under the Italian sky, everything feels fresh and evergreen. The colours come in different shades, but they blend into a spring-like mix of vibrating life and laidback vibes. Rushing under the Italian sky is against the rules; you have to stop by, even if just for a second and appreciate everything that's around you. Trust me: been there, done that. My trip to Italy started in a lovely Bergamo, where my plane landed. The city's a stone's throw away from Milan, so it makes quite a great stop, especially considering it's popular among low-fare airlines. Wallet-friendly travelling's always in style, especially in Italy. My main objective – as always – was to explore as much as I could, but there was a specific theme: landmarks. The land of pasta, The Roman Empire and Ferraris has a lot to offer, but I wanted to check the hype behind the most famous, the most loved, the most photographed Italian touristic attractions. Leaving Bergamo, I headed straight to Milan, stopped at Pisa and Florence and that was just the beginning. What did I do and where did I head? How wheelchair friendly Italy actually was?  All answers are waiting for you below!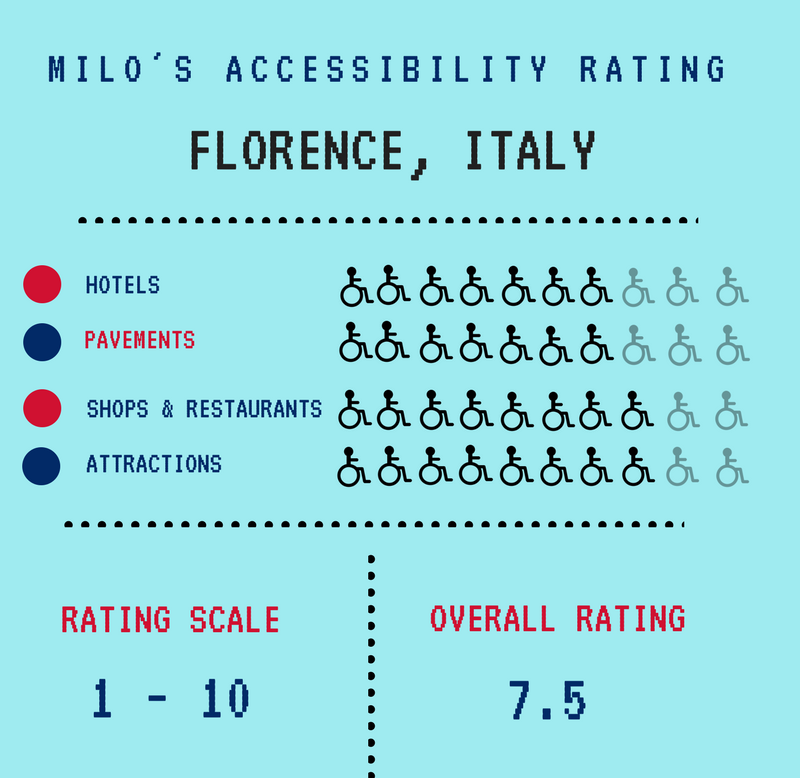 What to visit in Italy?
I spent three days in Milan and as much as I wanted to fall under its spell, reality came to disappoint me. It was a lovely city, but I couldn't see the magic I heard about so often.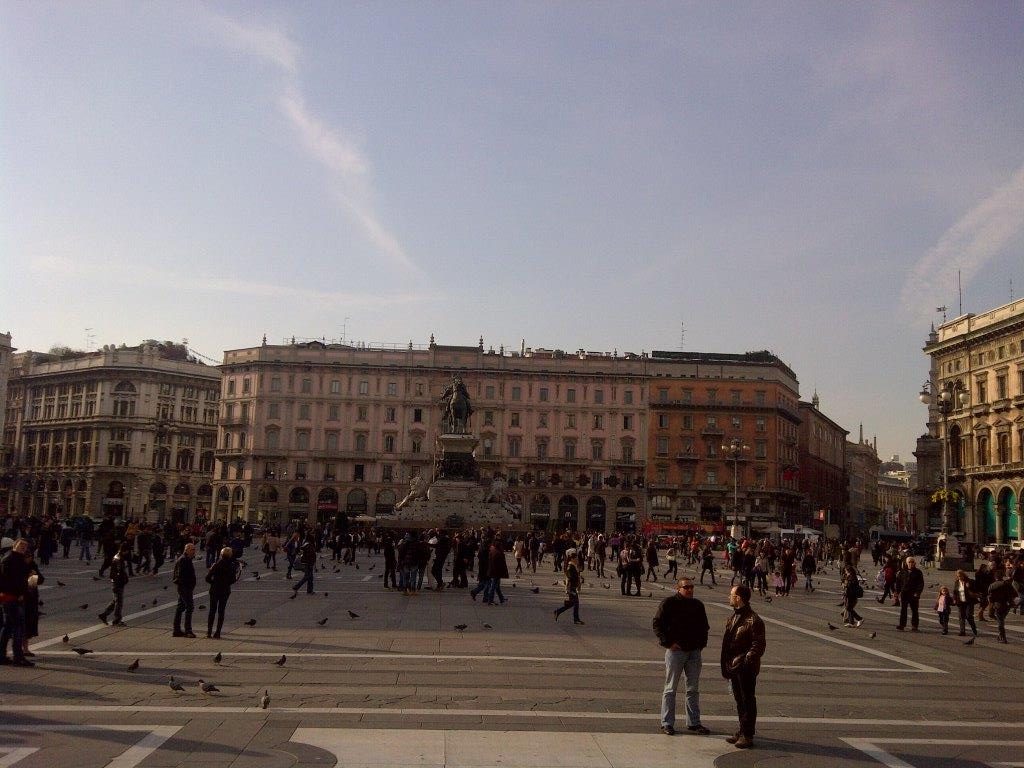 Maybe it would've been different had it been the Fashion Week. Many people told me Milan turns into a paradise of glamour when all the emperors of the fashion world turn their eyes on the city and various models and designers flock on ever busy streets.  In fact, the streets are so busy that I fully recommend electric wheelchair, especially Blumil!
Maybe I didn't visit it in a right moment, and the timing's everything. Either way, Duomo – Milan's gothic cathedral – was definitely one of the nicest buildings I've seen in Italy.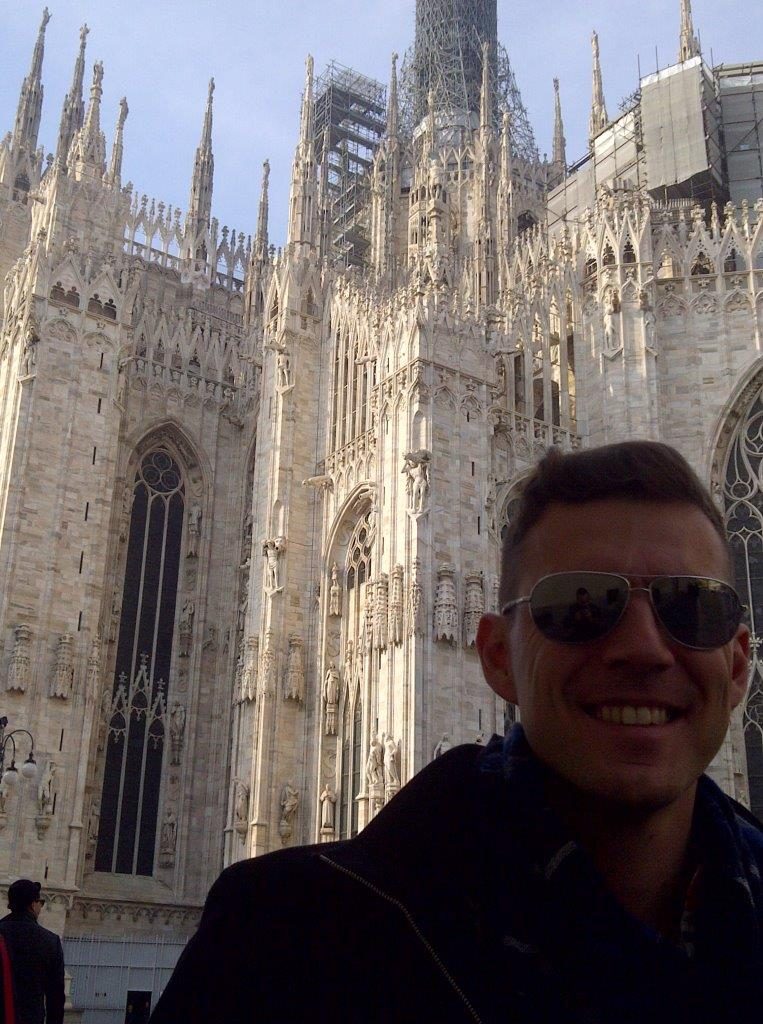 With over 3000 statues in its facade, it's quite impressive. The abundance of details is definitely what makes the building stand out so much.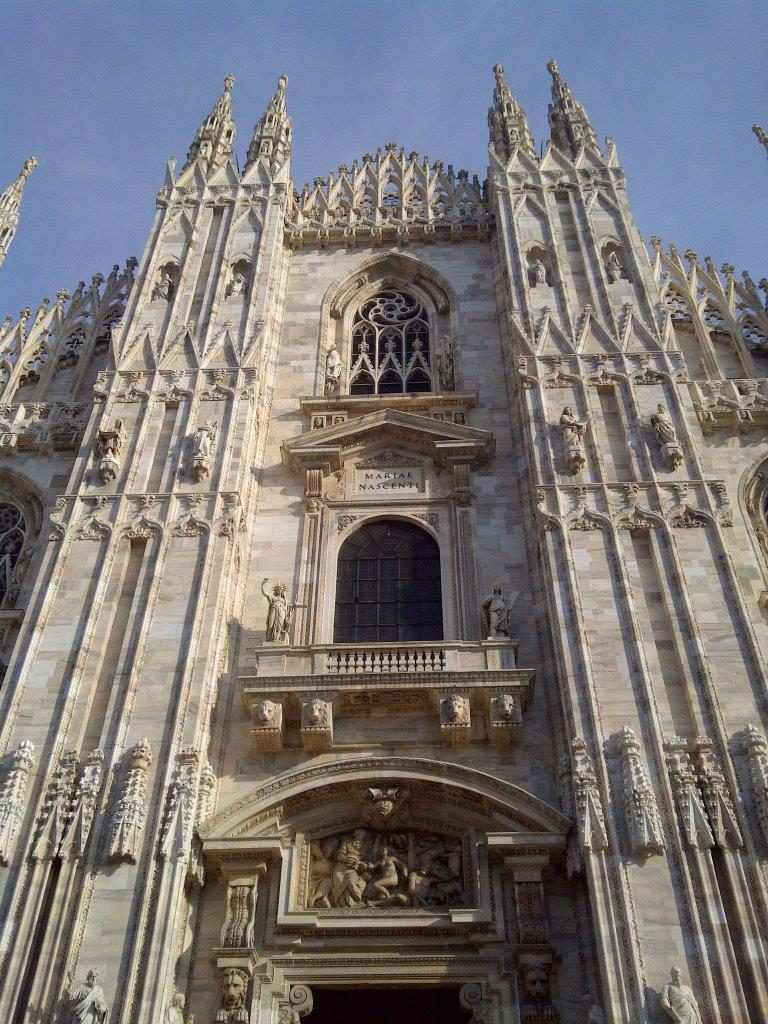 The most spectacular view is the rooftop. With its golden elements, it looks as if it was taken straight out of a fairytale. Definitely the city's highlight!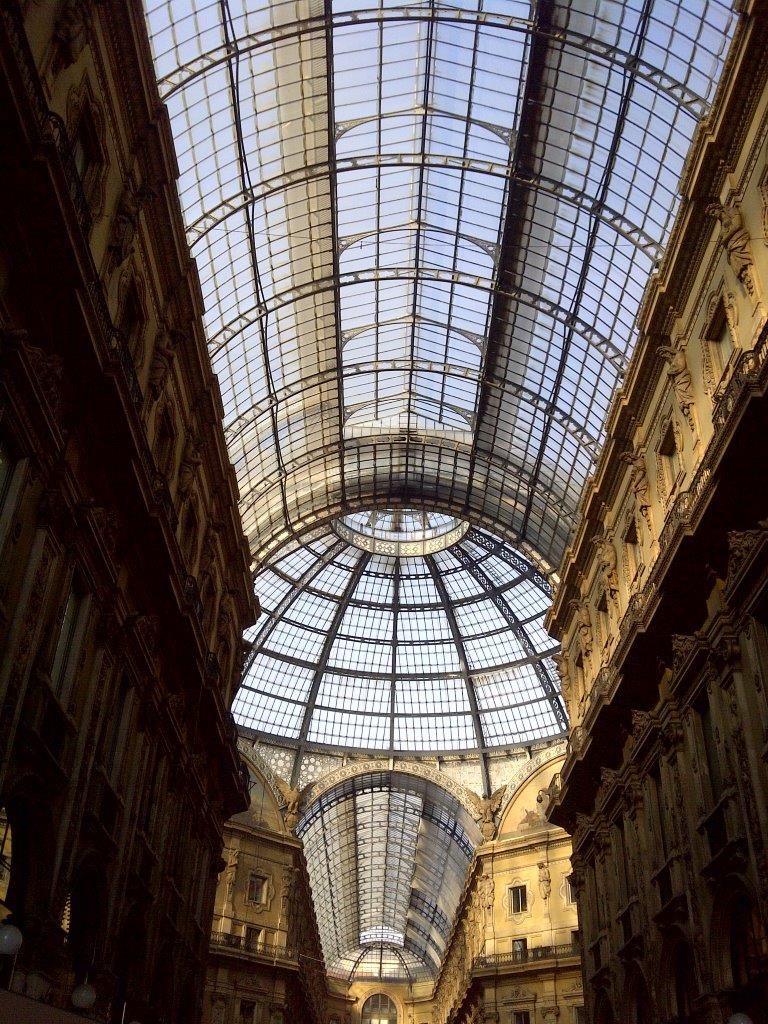 Who hasn't heard about the famous  Leaning Tower of Pisa? It's been quite known for years, all thanks to its tilt. It looks as if it was about to fall down and that's absolutely picturesque. The construction of the tower took two ages and it's seen centuries worth of the Italian history. It was a military base during War World II and Mussolini himself tried to make it straight, failing miserably. With such an interesting background story, no wonder the Leaning Tower of Pisa's been attracting visitors for years. Personally, it didn't become my favourite Italian landmark but I was quite enchanted by its effortless charm. It goes without saying it's something worth seeing – it definitely gained its fame for a reason. If you're heading for Florence, Pisa's just a stone's throw away, so it's a great place for a little stop. It gets yes from me!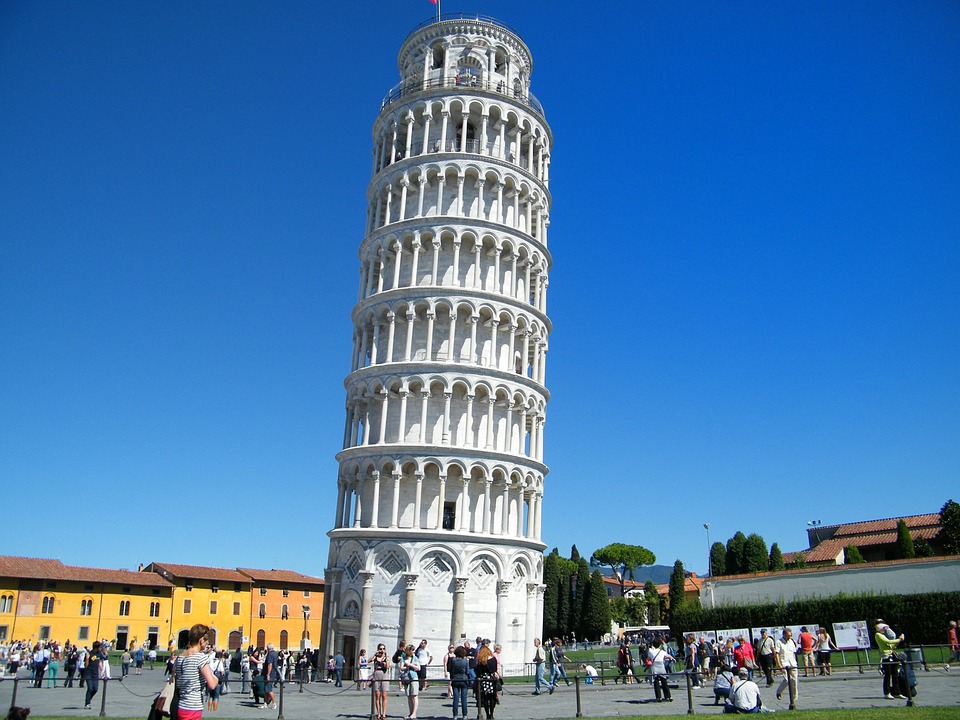 Located in a sunny Tuscany Florence's truly a charming city. Full of medieval architecture, it used to be a centre of  European trade in the Middle Ages. Strolling around the city, at times, feels like a travelling in time… straight to the 14th century, when the renaissance was born within the city's walls. Some of the cobblestone pavements may require an offroad wheelchair or Blumil. Florence's quite popular with tourists so it's not definitely for people who like to explore everything in solitude and silence. Everything's just too lively, vibrating with life and color. The past blends with the present in thousands of way, and generally it's difficult to get bored there.  What I liked the most was "The Ponte Vecchio" – The Old Bridge. It's a medieval stone bridge arching over the Arno river. It's absolutely lovely, I was lovin' it!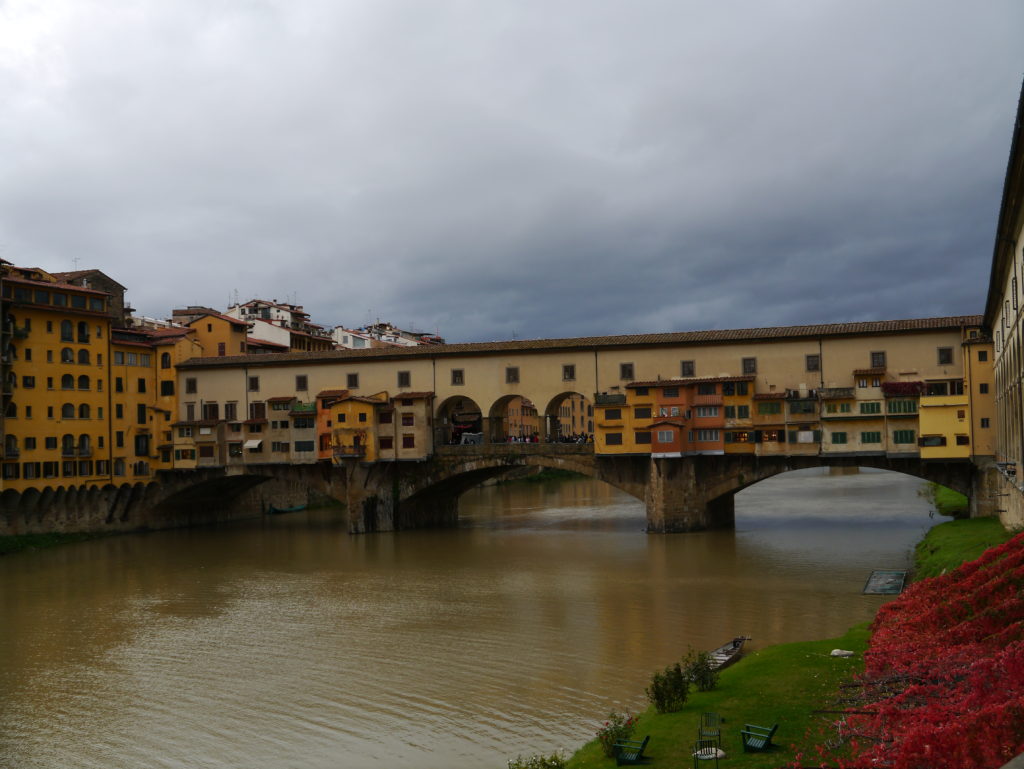 Accessibility 
Hotels
Generally, hotels in Italy are pretty accessible. Finding a place that would be wheelchair friendly is not mission impossible, but the quality of hotels is not always top notch. Since the number of accessible hotels is not wide, the price range's not what I would call flexible. Aside from that, the situation's fine, though far from perfect. Elevators and ramps mostly don't seem to be a problem, though.
Pavements 
The situation with pavements strongly depends on the place we're visiting. Older parts of the city are less accessible and everything's likely to be quite bumpy and definitely not even. On the other hand, more modern areas are mostly catered to wheelchair users' needs. In general, caution's advised, but navigating through the streets shouldn't be too much of a challenge.
 Shops and restaurants
I'm happy to say most of shops and restaurants can be easily accessed in Italy, even without an electric wheelchair or Blumil. Business owners seem to care about their clients, and ramps are not an extraordinary view.  Many shops and restaurants have flat thresholds, so there's virtually no problem entering.
Attractions
There's no denying Italy's  a very touristic country and its infrastructure seems to confirm it. Generally, attractions are very accessible. I feel like tourism's highly developed there and both institutions and businesses want to cater to needs of all of its clients, and I like it. There's still a lot of work to be done, but you can actually enjoy the country without constantly stumbling upon barriers. The beauty of Mediterranean nature is worth exploring, but for that, an all – terrain wheelchair or Blumil might be required.  That's something to praise!
Some people like Italy for the spectacular views, some praise it for a tasty cuisine and some others are in love with its ancient history and architecture. I am a mix of all these people since it's near impossible to pick just one Italian flavour. During my road trip, I had a chance to explore a little bit of the country and under the Italian sky, everything felt nice. Milan, Pisa and Florence were charming stops on my way but the best was yet to come. I embarked on the journey and I went on to explore more of what Italy had to offer. I did it all in quite an Italian spirit.  After all, as the Italian proverb say, if you can't live longer… live deeper.  I dived deep into the unknown and I wouldn't have it any other way. More about my adventures in the second part of the post! 
To read more travel stories follow Blumil on Facebook and Instagram!