The games have begun, and the world is watching with anticipation. 2018 FIFA World Cup officially kicked off on 14th June and it will occupy football fans' minds until mid-July.  Millions of people all around the world watch the games on TV,  online and live. Since worldwide accessibility seems to be increasing every year, how accessible is 2018 FIFA World Cup? Well, after some research, I need to admit "accessibility" finally made its way into FIFA's dictionary. Below you can read everything I found out about 2018 FIFA World Cup… for wheelchair users!

FIFA World Cup
The FIFA World Cup is held every four years, and since it was founded in 1930, it has a long tradition of international competitions. It is the most prestigious football event, in which national teams compete for the world championship.  It is also the most popular sporting event in history, gathering more attention than the Olympics Games, and keeping millions of people glued to the TV screen for days. As of June 2018, Brazilian team has held the championships 5 times, an absolute record in the game's history.  This year's championships take place in Russia. Who will win? The entire world holds breath to find out.
There will be a total of 64 matches, in 11 cities across Russia.  32 different teams will play for the championship. The final match will take place in Moscow on 15th July. Seems like Sunday 15th will be an emotional day for many!
2018 FIFA World Cup for manual and electric wheelchair users
Stadiums in Russia have been adjusted to cater to wheelchair users' needs in several ways and I am more than happy to see all these changes happen! What are changes I am talking about? Well, here are some of them:
dedicated parking areas and entrances 
Each stadium has a number of wheelchair friendly parking spaces, which are as close to the stadium as possible. Special parking passes are necessary to be able to use them.
wheelchair friendly seats, toilets, and access routes
Wheelchair users have access to specific viewing areas located throughout the entire stadium. It's worth mentioning that while your companion can get a free ticket alongside yours, there's no guarantee that your seats are next to each other.   Most wheelchair friendly toilets are located close to wheelchair friendly areas and are unisex.
accessible shuttle services
At some stadiums, accessible shuttle services are available. What does it mean? Well, there are, for example, minibuses, which take wheelchair users from parking areas to stadium gates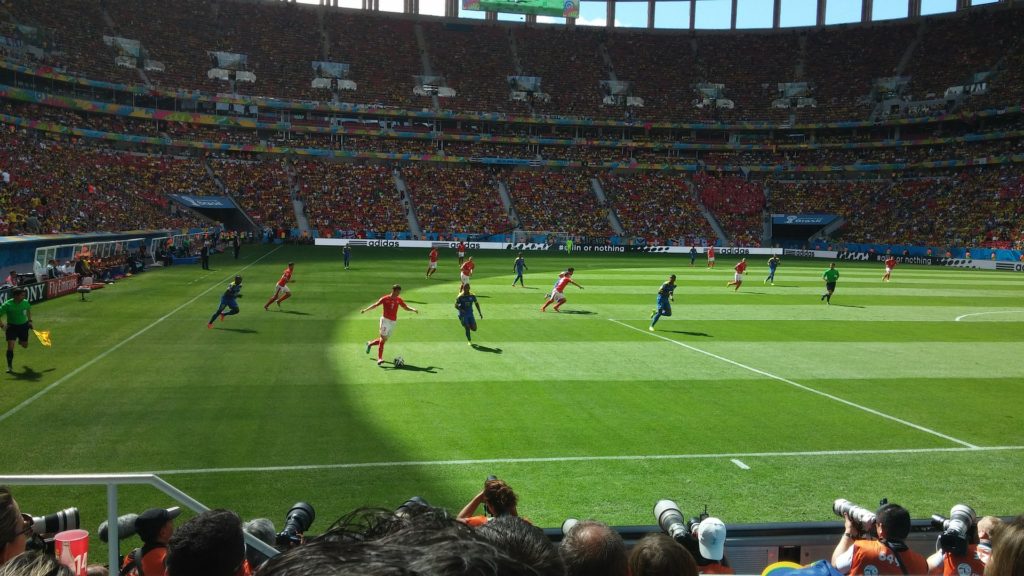 These are incredibly important adjustments, which make a great difference for wheelchair users, considering that stadiums are usually very crowded and difficult to navigate. This year's World Cup can also take pride in Special Access Tickets.  The tickets are available for disabled people, people with limited mobility and obese people, and guarantee special, accessible seating. Wheelchair users and people with limited mobility are also entitled to a free ticket for their companion. Since the number of tickets was limited, and demand was high, the sale started in September 2017. 
2018 World Cup… of international unity! 
While everybody wants their team to win, football fans proved they can rise above their differences! Celebrating the game, football fans lifted an Egyptian wheelchair user to give him a better view and share their football joy! Below, you can hear the man's account on 2018 World Cup in Russia.
Since both football and traveling unites people, Blumil electric wheelchair is a perfect choice for the next World Cup in Qatar! Because it is light, adjustable and ready to handle every terrain,  Blumil electric wheelchair a perfect fit for any stadium experience.  Most of all, sport lets you experience freedom and so does a great electric wheelchair! No matter the score, the best move is to move forward. Both in sport and life… especially in Blumil electric wheelchair style! 
To read more  Blumil stories follow Blumil on Facebook and Instagram! 
Don't forget to check the latest Blumil electric wheelchair model – Blumil City.  Why? Well, Blumil City is pavement-friendly, fast and pretty!