A Tale of Two Cities is full of surprises and awe, and it includes two interesting places: Macau and Shanghai. I visited both of them during my trip to Asia, along with Hong Kong and Taipei, and it was truly one of the most interesting experiences in my life. Shanghai and Macau are both Chinese cities, but they are like fire and water. Each has its own distinctive flavour, completely different from one another. Shanghai is racing up towards the future like there's no tomorrow, and in Macau, the past and the present blend together like watercolours.
What's the taste of Shanghai? What are the colours of Macau? How wheelchair accessible both of these cities are? You can find all of the answers below!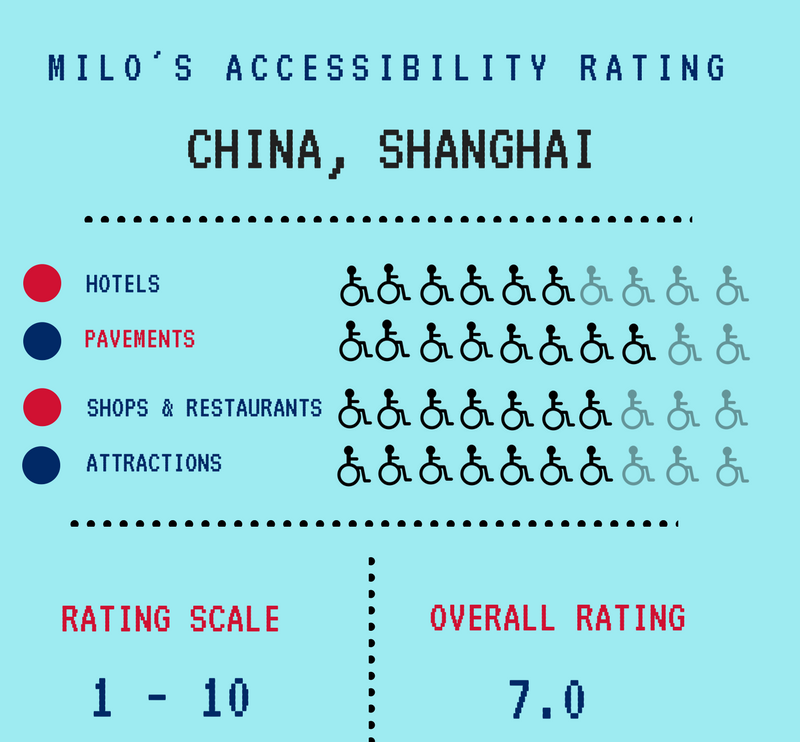 Shanghai
The first thing that caught my attention in Shanghai was its futuristic vibe. I was looking around and all I saw were skyscrapers soaring up to the sky. The rain was pouring down to welcome me in the city, and I couldn't help but wonder if this is what the future is going to look like. The huge cloud of smog above my head suddenly reduced the visibility, and I could only sigh because it wouldn't go away. The smog is a permanent part of Shanghai, not an occasional occurrence, as residents of the city would prefer.  Among tall buildings, street food and neon lights, it's easy to forget about the air, though. Once you start listening to the heartbeat of the biggest Chinese metropolis, everything else fades away. The collision of modernity and poverty, the splendour and the hopelessness, creates a striking tale of the city that is running towards the future as fast as it only can.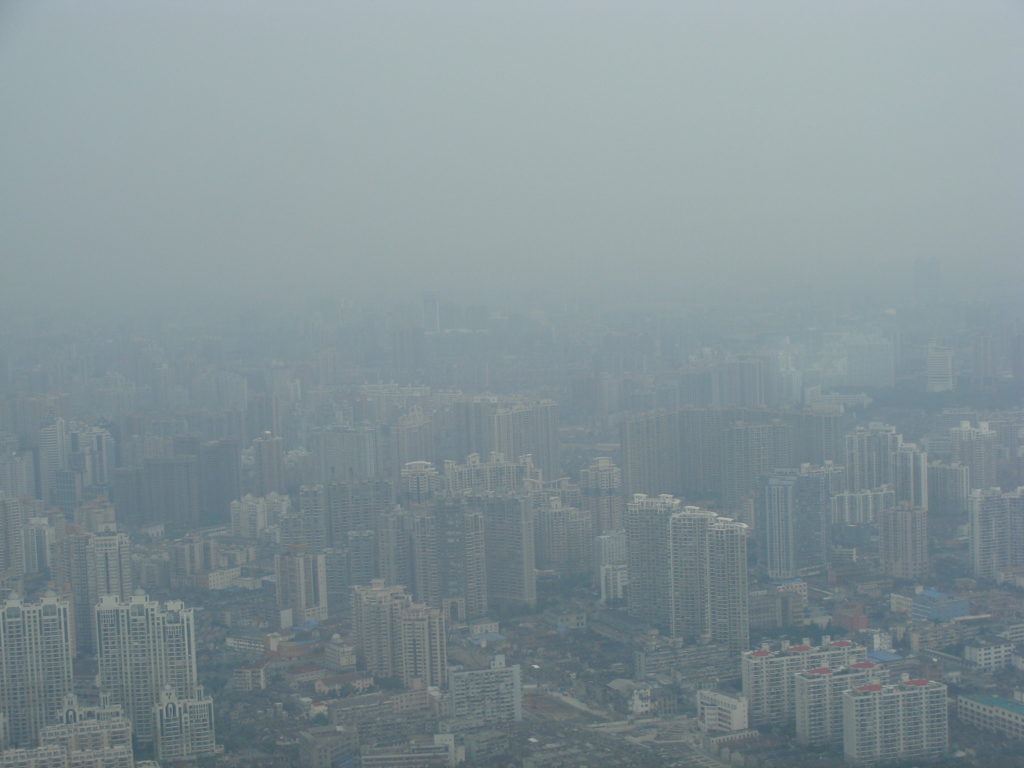 What to do in Shanghai?
1. Visit the skyscrapers
339-floor skyscrapers give you a spectacular view of the city. Trust me – been there, done that. In the city full of skyscrapers seeing everything from above is a very good idea. At night, everything lights up with million of neon lights, and that's probably when Shanghai is at its best. With around 150 skyscrapers it's one of the most futuristic places in the world and it doesn't seem to be slowing down. Visiting the point views is likely to leave you with wonderful photos, and even more wonderful memories.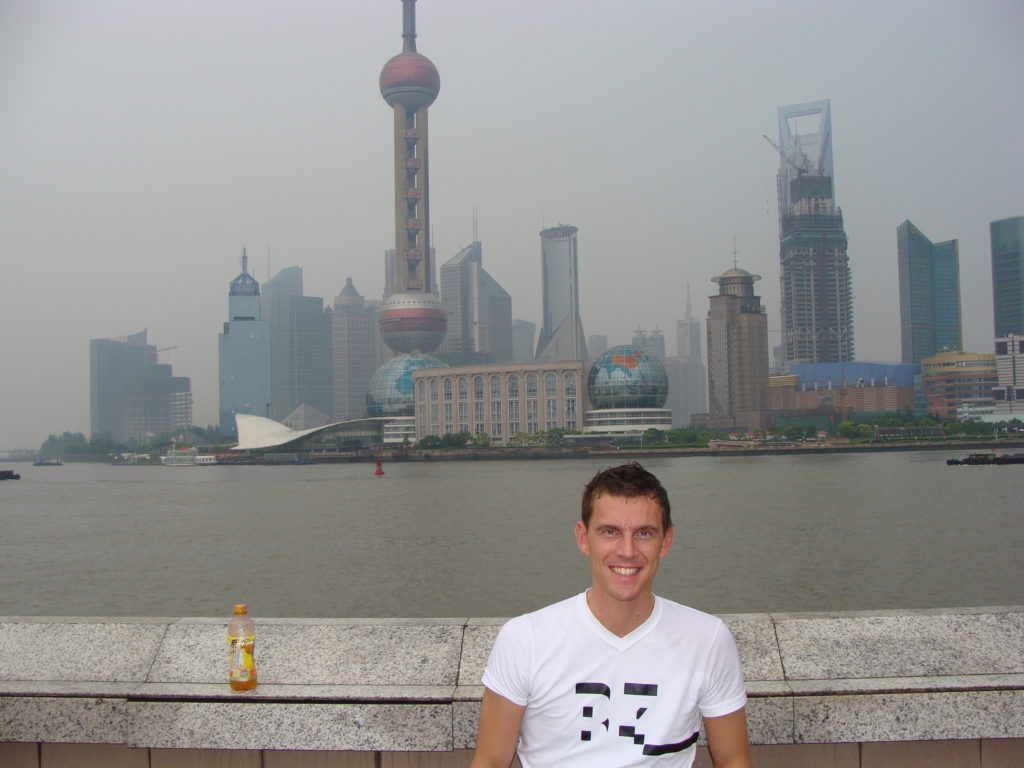 2. Enjoy the nightlife
Shanghai is vibrating with life all day, but at night it seems to wake up. It doesn't slow down, and slowly fall asleep like many other cities do. No, Shanghai lights up with colour and vitality once the sun goes down.  At first, I was surprised to see the streets were crowded with people late at night, but then I reminded myself I was visiting the biggest metropolis in the world. The number of bars and clubs opened all night was outstanding, and I can honestly say it was one of the most fun cities I've ever visited. If you appreciate rich night life when travelling, Shanghai is a great choice. I definitely enjoyed what it had to offer, and I wouldn't have it any other way.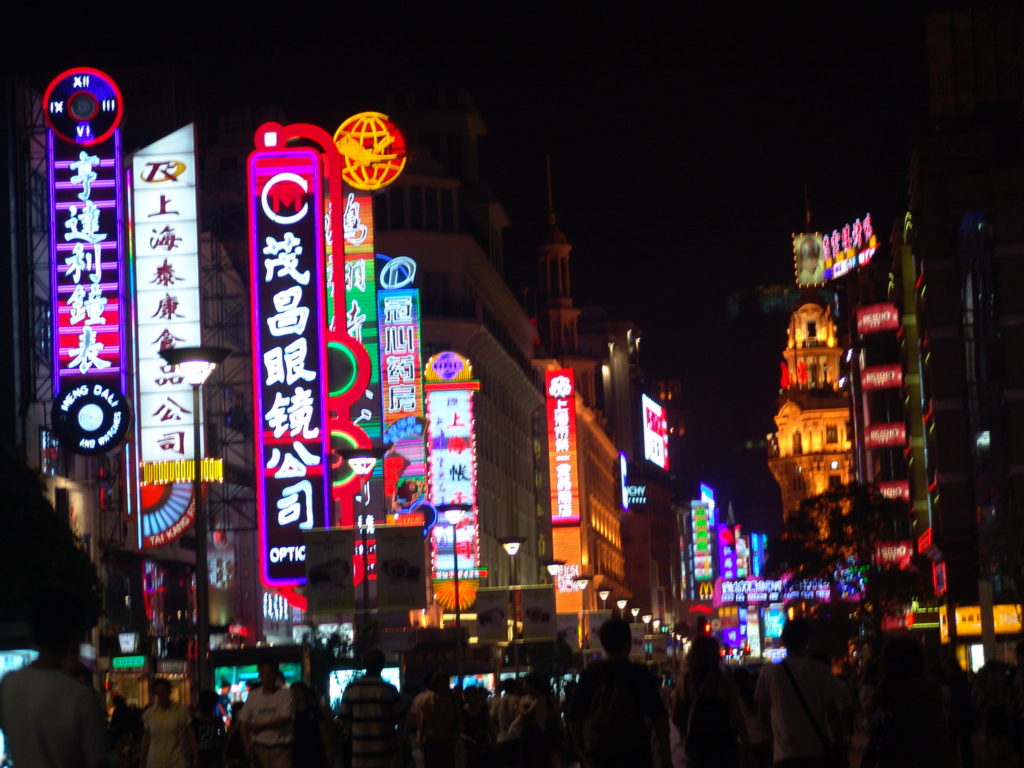 3. Explore the streets
Streets of Shanghai are extremely interesting. With over 20 millions of inhabitants, the city's full of diversity and pulsing creativity. Street food can be found around every corner, but personally, I didn't enjoy it much. Still, I saw some people loving it, so I would say… it's worth a try just to see for yourself and feed your curiosity. Aside from people, the architecture makes exploring the streets interesting. As much as Shanghai's all about skyscrapers right now, stumbling upon picturesque old buildings is not so difficult. The city might have forgotten about its past a little bit, but the past clearly didn't forget about Shanghai, and it's hiding somewhere between skyscrapers.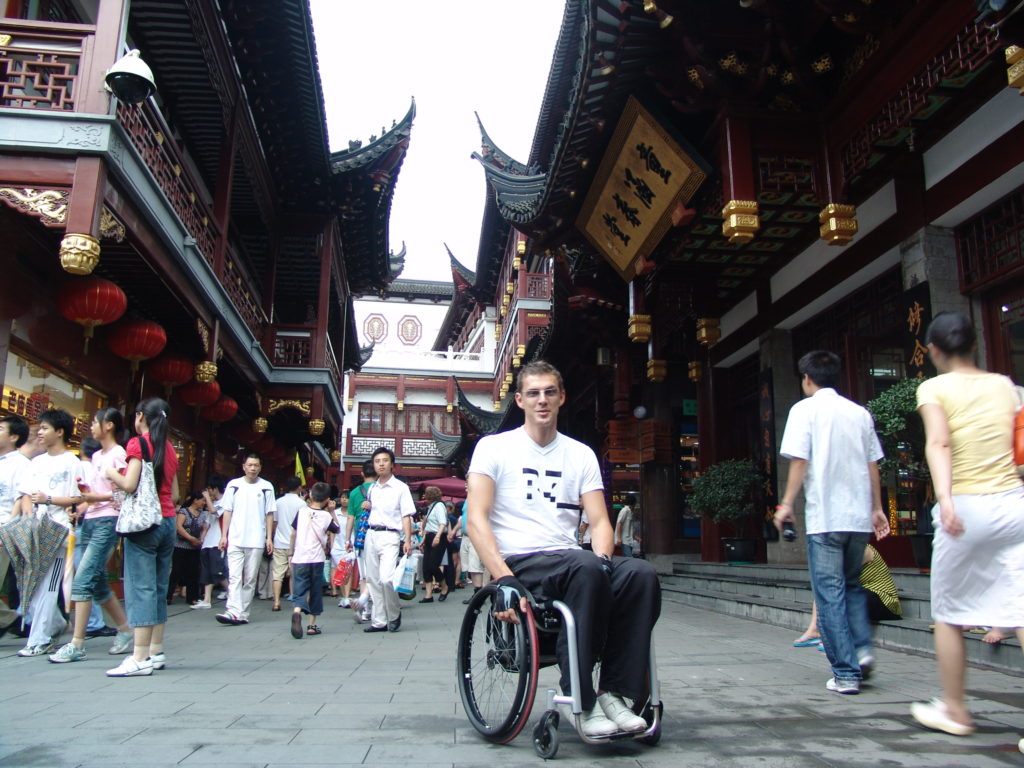 Travel tips
#1 Trains in Shanghai are extremely fast and comfortable, so if you're in need of transportation, I would definitely say yes to trains.
#2 Taxis are not terribly expensive in  Shanghai so they may be a good option, especially for airport/hotel transfers.
Accessibility in Shanghai
Hotels
Finding accessible hotels in Shanghai is not mission impossible, but there are very few accessible hotels with a good standard. They are also not very wallet friendly and navigating them requires extra caution. Had I had my Blumil back when I was visiting Shanghai, I might have enjoyed my hotels more, but without it… well, I needed to be even more careful than usually. My note? Average at best.
Pavements
I was positively surprised upon seeing that pavements in Shanghai are close to being flaw-free. The surface's even, curbs are not a problem, and pebblestone is nowhere to be found. Compared to Prague, Shanghai is a pavement paradise.
Shops and restaurants
Shops and restaurants are generally accessible, but I definitely couldn't access every single one. Still, elevators were rather a standard and thresholds weren't really a problem so I would say the situation's better than on average.
Attractions
Skyscrapers are very accessible, and if it were only for them, I would rate attractions for 10 out of 10 points. Sadly, older architecture is not always catered to wheelchair users' needs, so 7/10 seems like a fair rating. With its vibrant nightlife and a futuristic vibe, Shanghai's definitely a place to visit. After all, you can dive into the future there, before it becomes the reality.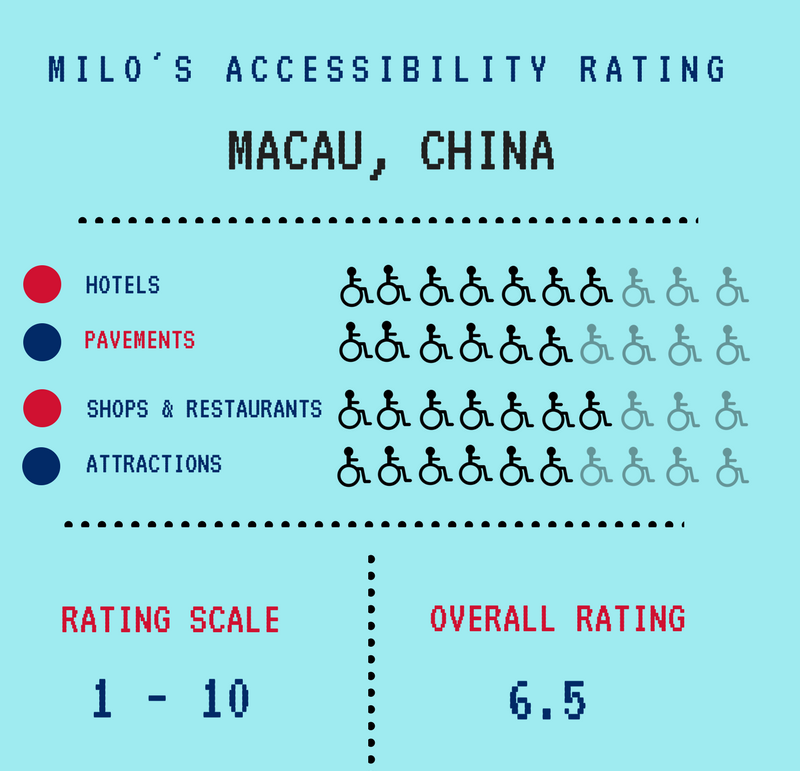 Macau
Saying Macau is nothing like Shanghai would be a lie. They are both vibrant and full of skyscrapers, but there's something different about Macau. It mixes the past with the future more than Shanghai. It used to be a Portuguese colony, and the influence of Portuguese thought can be seen everywhere in the city. Sometimes when I exploring the streets of the city I would stop and look around, because it felt as if I was in Portugal, not in China. To make things even more interesting… Macau's  like a Chinese Las Vegas.  It's known for its numerous casinos and bars. Trust me, boredom and Macau don't go together – not at all!
What to do
1. Discover the Portuguese side of the city
As much as skyscrapers of Macau look wonderful at night, it's Portuguese architecture that really captured my attention. For a moment it felt as if I was in the south of Europe, just casually strolling around Lisboa, and then I saw typical Chinese street food and reminded myself I was actually still in China. It was definitely one of my favourite things about Macau since it made me feel like I was travelling back in time.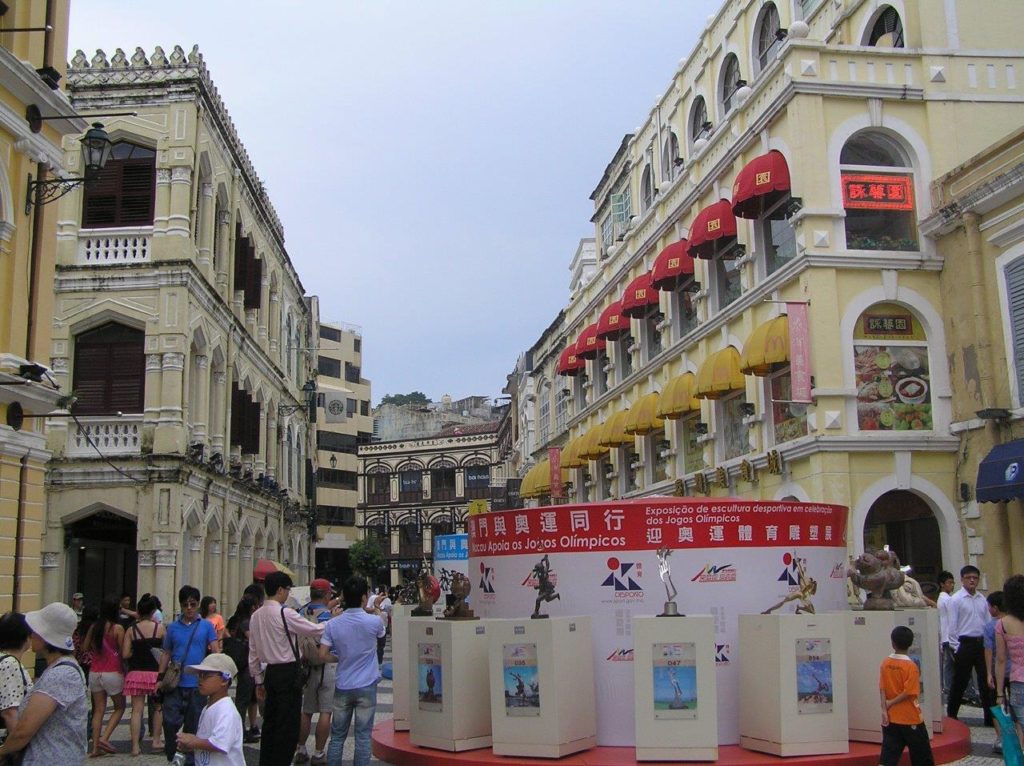 2. Have fun in casinos
As much as I am not a frequent visitors to casinos, I really thought that side of the city was interesting. If you like Las Vegas, you'll probably love Macau's casinos. It has over 30 casinos located all over the city, so… no space for boredom!
3. Love water in a hydroplane boat 
The turbojet is a Macau's high-speed ferry and it is truly a very fun experience. If you love water, boats and a good view of the city… Turbojet's a way to go! I definitely enjoyed the experience, but I might just love boats – after all exploring canals of Amsterdam is another of my favourite memories.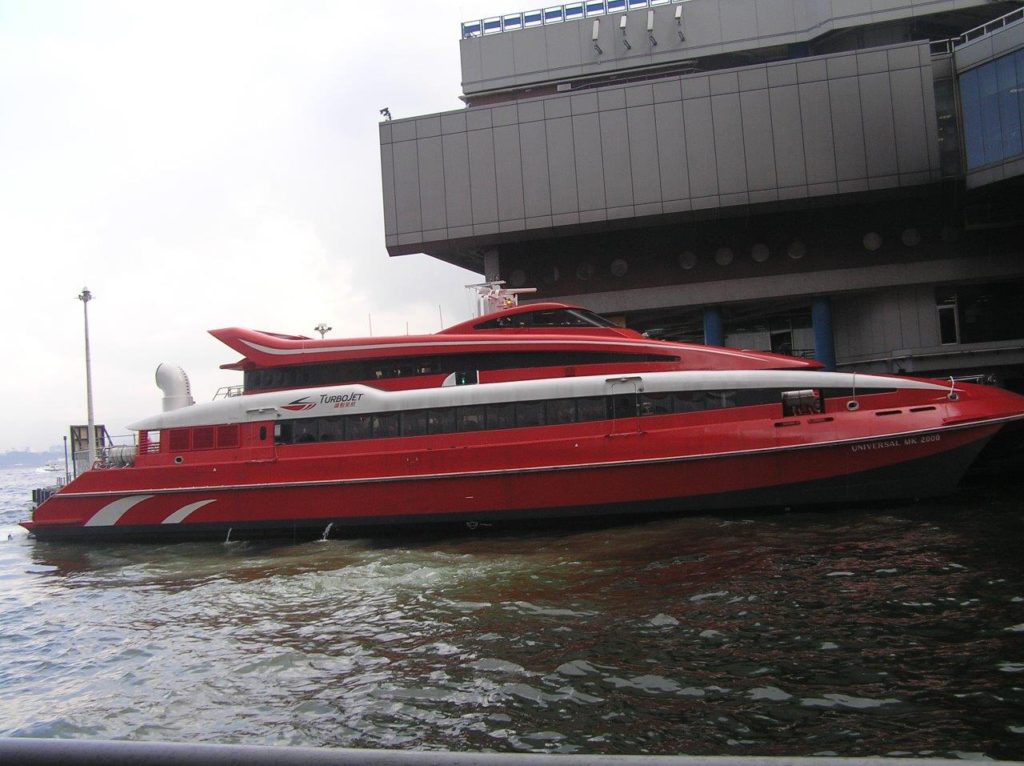 Accessibility in Macau
Hotels
Hotels in Macau are the epitome of the average or average plus. They are mostly accessible, but the price range's pretty narrow. Elevators are mostly present and in a good condition, but it's always better to contact the hotel before booking a room, since… no surprise is better than a bad surprise.
Pavements
Uneven and full of holes, Makau's pavements didn't win me over. Navigating through the city is possible, but requires a lot of extra caution.
Shops and restaurants
Shops and restaurants are mostly accessible. High thresholds or the lack of elevators is not something unthinkable in Macau, but in general, you should always find an accessible place to eat or shop in.
Attractions
Post-colonial attractions don't make the most accessible touristic sites but can be accessed. Modern buildings are mostly very accessible.
In a nutshell: Shanghai and Macau may both be houses of Chinese culture, but their flavours are quite different. Shanghai races up to the future faster than the light, while Macau moves forward without rush. I enjoyed my stay in bot of these cities because each catered to my different travelling needs. My inner party animal was having blast in Shanghai, while the architecture lover within me was content admiring Macau's street. If it was an X-factor audition, I would say "Yes!" to both of them. I would say "Yes!" all over again.
If you want to hear more of my travel stories and learn more about Blumil you can easily stay updated by following Blumil on social media!