Lights are always burning brightly in the city of Jackie Chan and Bruce Lee. Hong Kong illuminates at night and comes into thousands of different shades, diving straight into the future. When I visited the city in 2008, it was like a busy beehive, as China was preparing for the Olympics. Everything felt hectic, modern, and impressive. I'm more in love with outdoors adventure than city exploration, but Hong Kong managed to grasp my full attention and made me go "woah" a few times. It felt as if the future was just within the reach, somewhere among luminous skyscrapers. The concrete jungles like Hong Kong never lose the sight of tomorrow.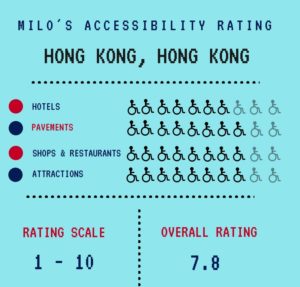 Things to do in Hong Kong
Watch the city illuminate at night
Hong Kong's the city of lights, and it never fades into the darkness. My absolute favourite thing there were illuminated river banks synchronised with the music. The illuminations were turning on to the rhythm of the music, and if that's not cool, I might need a new definition of that word. Blinding lights are truly everywhere, so as long as you like the dynamic of a metropolis, you are likely to be in awe with everything around you. I know I was, and so were my friends. Ten points for city lights!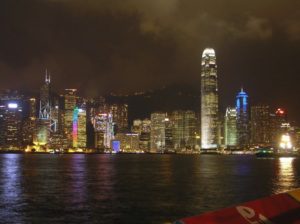 Visit the biggest Buddha in the world
Once you're tired of blinding lights and people in hurry, all you need to do is visit the biggest Buddha in the world. It's a small dose of peacefulness among the hectic urban jungle. The Hong Kong Big Buddha is 34 meters high and made of bronze. One would expect it to be ancient, but it only dates back to 1993. To get a closer look at the statue, you have to climb 268 steps to make it to the top. That's definitely not a wheelchair friendly solution, considering there were no elevators in my sight. I almost gave up on the idea of making a more personal contact with Buddha, when super-friendly Russians helped me to get right into the top of the statue and carried my wheelchair all the way up. It was a beautiful act of fellow travellers' kindness and it remains one of my favourite Hong Kong memories.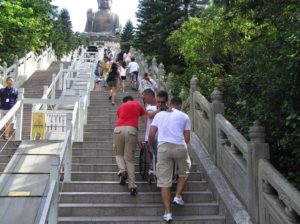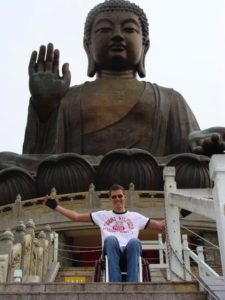 Of course, as life likes to surprise us,  I discovered there was a steep, but smooth path… on the other side! I shared a memorable moment with strangers, so I don't have any regrets, but here's a good tip for you: always look for disabled access on the other side, you never know where it may be hidden.
Hong Kong is full of wonderful parks, which masterfully blend natural landscape with modern architecture that surrounds them. These greenbelts bring life into the city with its beautiful plants, numerous birds, fountains and lily ponds. I visited a few of such parks to calm down after a hectic night exploration of the city. They are such calm places that I almost forgot I was in a big metropolis like Hong Kong.  Not to mentions the views – these were absolutely spectacular! Fun fact: some of the parks have special themes – often educational ones, so knowledge and peace are both served to you if you visit.
Soar high with the Ngong Ping 360cable car
Ngong Ping 360 cable car is a 5.7km bi-cable ropeway, and it gives you a possibility to see Hong Kong from the heights. It's actually one of the coolest city exploration ideas I've stumbled upon during my travels. Exploring Amsterdam on the boat was cool, but let me tell you that Hong Kong cable car is absolutely on the other level of awesomeness. The way it lets you experience the city is absolutely breathtaking since you can see it all at once, the way you normally only would on the postcard. Provided you are not afraid of heights, I would definitely recommend it – it's a great beginning of a cloud-capped adventure.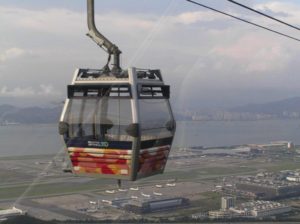 When it comes to attractions, Hong Kong is close to being top-notch, but what about accessibility? Can the city be called wheelchair friendly? More about it below!
Accessibility in Hong Kong
Hotels
It was fairly easy to find an accessible hotel in Hong Kong back in 2008, and I trust (and hope!) things have not become worse, but better since then. Elevators and ramps are rather a standard and the former are usually in good conditions, and they definitely don't back to 1900's. The price range of accessible hotels could have been wider, but generally, I can't say much bad about the hotels, since they were just okay. I wasn't blown away by their quality, but I wasn't disappointed too.
Pavements
Pavements are not a problem in Hong Kong. Sometimes there are some bigger bumps, but the surface's mostly even and navigating the city on the wheelchair is not as challenging as in Rio or Prague. Definitely accessible!
Shops and restaurants
Ramps are a standard, so I could enter the majority of the shops and restaurants. There were often elevators in the buildings, and thresholds were low. Accessibility? Granted!
Attractions
Hong Kong's attractions are definitely accessible, even more than I expected them to be. Even the Buddha himself welcomes tourists in a wheelchair-user-friendly manner if you only happen to notice the elevator in the back. I eventually did! All in all, you can explore Hong Kong with ease, and try everything it has to offer.
Hong Kong's a great taste of the modern metropolis, that doesn't forget about the importance of the spirituality. Between luminous skyscrapers and peaceful parks, I could breathe the world in and out in a perfect harmony of both nature and human thought. Hong Kong has its own flavour, the flavour that might surprise you, and I know I liked it. Maybe you would too if you gave it a try. My final verdict – a big yes for Hong Kong!
If you want to hear more of my travel stories and learn more about Blumil you can easily stay updated by following Blumil on social media!