When September is creeping in, and the last days of summer are just around the corner,  school time's about to begin. This time, however, they will be no homework, no tests, just a major dose of life changing knowledge. Ladies and gentlemen, Blumil Riding School officially kicks off! If you have ever wondered how to navigate our Blumil electric wheelchair, and how difficult it actually is, you've come to the right place! Today, we're having a class on Blumil and hopefully, it'll leave you feeling both inspired and informed. Let's start!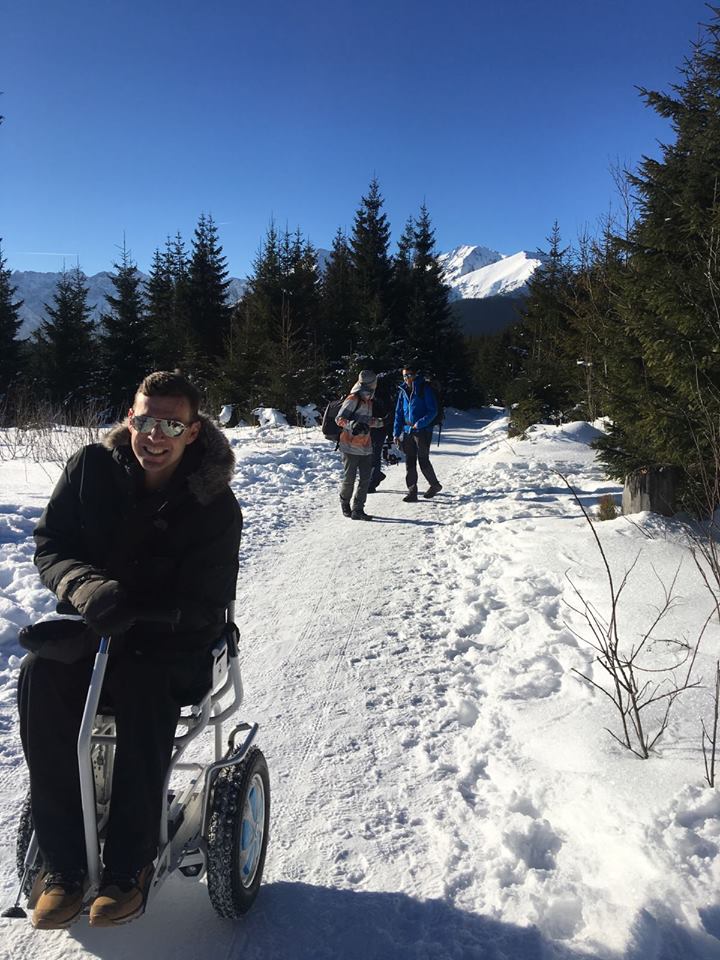 How is Blumil constructed? 
Blumil's history is longer than you'd think – it took us five years to create our Blumil electric wheelchair. Years of tests and improvements led us to the electric wheelchair we know today. Ultimately, it has become what we envisioned it to be: freedom-maker.
It's light, portable, and easy to navigate. Why? Well, first of all, it's based on Segway/ Airwheel / Ninebot construction, which is very user-friendly. Second, Blumil's equipped with gyroscopes and onboard computer, which help with balancing the wheelchair. Since it's two wheeled, it can easily fit in small spaces. It's especially helpful during city trips. Narrow streets of Barcelona, Paris or Lisbon are not a challenge on Blumil!  8 centimeters of free space between the surface and Blumil's bottom make it easy to go off road and explore the wild. The lightest Blumil electric wheelchair weighs only 38 kilograms. You can easily transport it in your car trunk. Would you like to feel the wind when on a walk? No problem! Blumil can drive as fast as 20 kilometers per hour. Trust me, I was the fastest person in Budapest.
How can you navigate your Blumil electric wheelchair?
Blumil's very intuitive – leaning your body's the way to make it move. If you lean forward – the electric wheelchair will go forward and if you lean backwards – the wheelchair will stop. When you lean more – you can move backwards.  The computer makes sure everything is stable. Here's the video example of how to ride it!
Riding Blumil is very intuitive and fun. What's worth mentioning? You really don't need much of physical strength to use it. Gentle moves of your body alone are enough to make it move. Since the vehicle follows your movement, navigating the streets, beaches or mountains becomes easier than ever. After all, Blumil electric wheelchair becomes a reliable companion. Thanks to its small size and ability to deal with every type of terrain, I had a wonderful time exploring inaccessible Rio de Janeiro.  Blumil's definitely a very human-friendly vehicle. Just take a look at the video! Angelika's smile says it all!
The freedom-maker wheelchair
Freedom and Blumil go together very well.  After all, transport in the Blumil style is easier than ever, flying with a Blumil wheelchair is not a nightmare, and planning an accessible trip is suddenly almost care-free when you know your wheelchair stands a chance against bumpy pavements.  If you are wondering which Blumil wheelchair is your perfect match, our blog post may be helpful. For all of us who love traveling, The Great Accessibility Rating is here! 20+ places all over the world described and rated. We've got everything covered: from top attractions to accessibility, you can find plenty firsthand travel stories on the blog. Remember: everybody can experience freedom. Especially in the Blumil style!
To read more Blumil stories follow Blumil on Facebook and Instagram!