In my first blog post I want to tell you a bit about myself, so you will have a better perspective when reading my next ones. I have been using a manual or electric wheelchair for the past twenty years, but I keep travelling and finding new places!
To move around I need a wheelchair – electric or manual. I cannot make small steps on short distances (a frequent question when I board a plane). As I depend on it so much I need it to be reliable. I also want it to be as versatile as possible. I find it to be such a hassle to have a manual wheelchair for moving around an apartment and in the city, a handbike to travel over larger distances and an off road wheelchair to go to the forest and on gravel.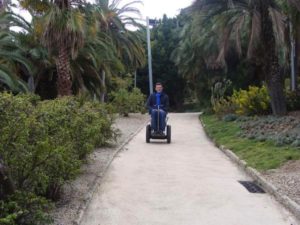 I always wanted to have something all-round. When I read posts on different forums, I see that's what a lot of people want.
When I created the Blumil I knew it's great in a lot of situations, but being home I always had my manual wheelchair as a backup. Besides I have my car which is adapted to easily carry the Blumil and the manual wheelchair.
When I decided to go for a week holiday in Barcelona, I wasn't sure if the Blumil will be OK as it would be my only wheelchair there plus I didn't know how everything would work out at the airport.  At the end I decided to give it a go and I must say the results were much better than expected.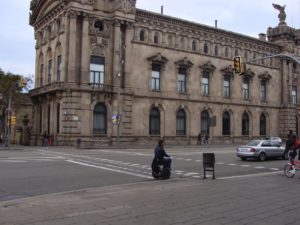 At the airport, the whole procedure was exactly like with the manual or electric wheelchair. I could stay on it until the doors of the plane, where I transferred myself to the narrow, airplane wheelchair to get to my seat. When I arrived my Blumil was already waiting for me. To get to the hotel I took an airport shuttle bus. From the last bus stop i had to cover around 1,5 km, which took me just a couple of minutes. The hotel had a small elevator, but I could still fit in easily. I had a disabled adapted room so moving around and accessing the toliet or the shower wasn't a problem.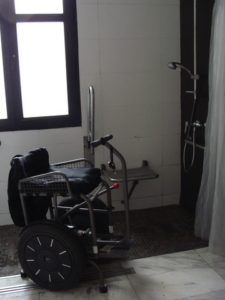 Those were my biggest worries. I knew that moving around the city would be a breeze. And it was
I could access the beach.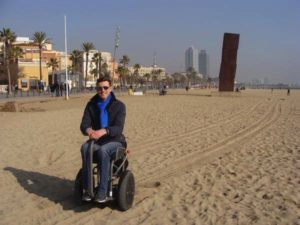 Uphills with cobbles weren't a problem.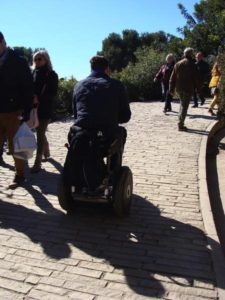 This was really steep (I don't know if you can see it on the photo).