What happens in Rio definitely doesn't stay in Rio, so I have another electric wheelchair travel story to share with you! As you might know, I am very fond of travelling, so when I've learned I had a chance to experience the 2016 Summer Paralympics, I couldn't  let an opportunity like that getaway.
Without thinking twice, I took my electric wheelchair – Blumil – and quickly was on my way to Rio!  I immediately fell in love with the city,  and I would never turn down a chance to visit it again. After visiting quite many places, it feels special when a city can steal your heart, the way Rio stole mine.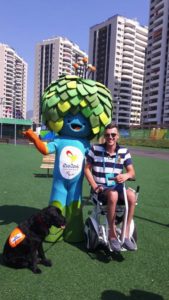 The journey was very long and tiring but I was too excited and anxious to meet new people and see competitions to succumb to tiredness. When we finally arrived I was delighted – the weather was great, everybody was really nice and I was in high spirits. But… there always has to be a "but"! Sadly, life isn't a bed of roses, so very soon I realised that although the city of Rio hosted so many disabled people, many facilities weren't well adjusted. The main pavements were too narrow and bumpy and I saw people in manual wheelchairs struggling to get from a point A to a point B. Luckily, I didn't encounter such problems with my Blumil electric wheelchair, but I was disappointed because I expected something more from the city that hosted Paralympics.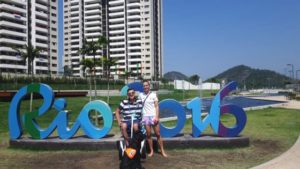 I don't go anywhere without my Blumil, and this time was no different: I took my electric wheelchair with me. As you may imagine, many people would come to me after noticing that what's normally a big obstacle for a regular wheelchair, wasn't  a problem for Blumil. With Blumil I could really experience freedom and enjoy everything Brasil had to offer. Trust, there are thousands of things to explore there, so I was having the time of my life.
Exploring Rio on my Blumil electric wheelchair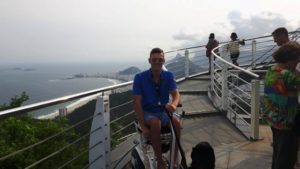 Brazilian beaches are said to be some of the most beautiful ones in the world, and I have to tell you it's not an understatement. They were absolutely gorgeous – clean, sandy and sunny. It's the ultimate combination, so I couldn't get enough them. Can you blame me?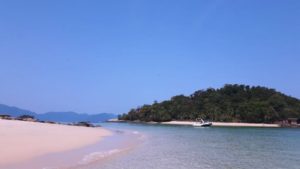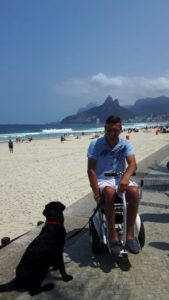 Unfortunately, I know that many people in a wheelchair are unable to experience such beautiful views because the wheels simply won't work on a sandy surface. You can say I'm a lucky guy thanks to Blumil! Honestly, it can be used as an off road & all terrain wheelchair, and it runs as smoothly as it does in the city. Thanks to the fact that Blumil is a fully motorised wheelchair, it's really easy to handle, thus making it a perfect solution for disabled people with a weaker upper body. I know I always keep saying that, but it's true: Blumil has really improved my life!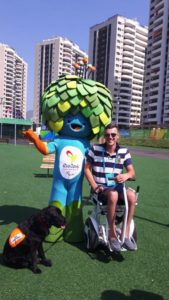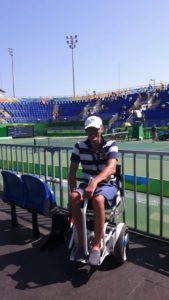 Accessibility in Rio de Janeiro, Brazil
I am sad to admit it, but accessibility is not Rio's strongest point. Not even remotely close. Paralympics might have been there, but to be honest, navigating through Rio felt like Olympics itself: it surely required a lot of effort and focus. Luckily, the city makes up for it with its wonderful community. People there are, in general, extremely helpful and friendly. They're willing to help when it's time to save the day.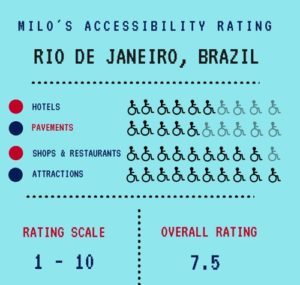 How would I rate Rio's hotels, attractions, pavements and shops & restaurants? More about it below!
Hotels
The number of accessible hotels in Rio is pretty high, but there's one catch. They are mostly terribly expensive, so accessibility comes with a high price there. I am pointing it out since accessible hotels can be generally found in all price ranges, just not in Rio. To be fair, accessibility in my hotel wasn't just an abstract idea from a touristic leaflet – I was given exactly what I was promised. Elevators were in a good condition, ramps were a must, and rooms were adjusted to wheelchair users. In general, Rio has it all, but not in a budget friendly way.
Pavements
Pavements in Rio are almost a work of art. They are made of small, elegant mosaic and come in beautiful patterns. I really liked it, but my enthusiasm was limited only to its visual aspects. In practice, these beautiful pavements are like the worst nightmare for wheelchair users. The surface is uneven and navigating Rio is anything but a pleasure thanks to that. Hadn't it been for Blumil, I would have never made it to some places, and that's a shame because there are various locations worth exploring in Rio. All in all, pavements would score well in the beauty category, but terribly in practicality. My tip: just be careful. If you're cautious enough, it should be fine.
Shops and restaurants
I am very pleased to tell you that shops and restaurants in Rio are definitely accessible! Ramps are everywhere, and if there's no ramp around, locals will be more than happy to help.
Attractions
I've probably said it a dozen times already, but I'll say it again: Rio has a lot to offer. The tourist infrastructure is absolutely fantastic, and the city can be explored in many ways. Aside from beautiful beaches, it takes pride in wonderful architecture, great cuisine and tourist-friendly community. I particularly loved the surfing classes, since I could enjoy both the sea and the thrill of outdoor adventure. Beaches are free in Rio, so there's some balance to pricey hotels. Attractions are definitely the strongest allure of Rio!
Rio's one of those places, which steal your heart right away to never give it back. I know part of my heart stayed there, somewhere between sandy beaches and wonderful architecture, and I wouldn't have it any other way. It's not the most accessible place on the Earth, but it makes up for it with its wonderful beauty. I don't know how Paradise looks like, but it might as well look just like Rio!