Strolling around Prague, Czech Republic is probably one of the best ways to explore the city. With its lovely, old streets full of nostalgic vibes, Prague was made for long strolls. It may not be the biggest or hottest European destination, but it's definitely one of the highlights of Eastern Europe. I visited it back in 2006, and it was, overall, a nice trip. Not the most accessible city I've ever visited, but absolutely charming. More about Prague – what to do there, and how accessible it actually is  – below!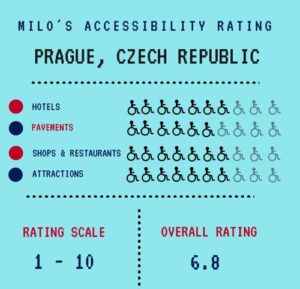 To read more about the rating go here – http://blumil.com/2017/01/12/milos-accessibility-rating/
As Prague was founded in the 9th century, the city's full of history to explore and filled with interesting places to visit. It was a warm autumn when I decided to go to Prague with my friends. We knew Prague had a reputation of a lively, fascinating city so we wanted to squeeze everything out of our stay there.  Obviously,  I couldn't see everything the city had to offer, but I had my taste of Prague. The taste that I will try to put into words below.
Things to do in Prague
Strolling around the Old Town
Prague's Old Town is full of lovely buildings, little shops and picturesque buildings. I had fun exploring its narrow streets, though cobblestone didn't make it easy for me. The beautiful gothic church of Our Lady before Týn, the Spanish synagogue, the baroque Palace – Prague's Old Town has it all! I would have enjoyed everything more if it had been more wheelchair accessible, but still – it was a place worth visiting.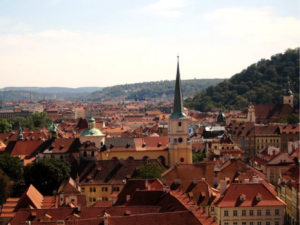 Going for a beer
Before you start laughing at me, let me tell you one thing: The Czech Republic's really famous for its beer. If you're there, it's really worth to give it a try. It is one of the Czech specialties. It was fun to try some fine Czech beer with my friends, so if you like beer – that's a way to go! There are plenty places that sell it, so wherever you go in Prague, beer is always waiting there for you.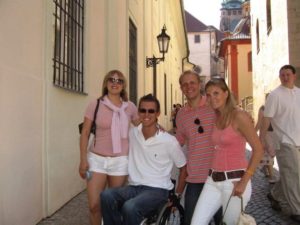 Admiring The Charles Bridge
The Charles Bridge is the bridge that crosses the Vltava river in Prague, but it's not the reason why it's so special. It's actually a historic site, as its construction began in 1357. It remembers both times of war and peace and dates back to Czech kings, but the best thing about it is how lovely it actually looks at night. Probably one of the most picturesque bridges I've seen, and trust me, I've seen plenty of bridges.
Exploring the Prague Castle
Touristic information in Prague claims that Prague Castle is the largest castle area in the world. That's pretty impressive for a fairly small European capital city. The building itself looks amazing, and it's definitely something worth seeing. Believe me, I prefer active vacation rather than visiting museums, but I still found The Prague Castle nice.  Still, if I could only choose one place to visit in Prague, I wouldn't probably go with this one. The Old Town would probably take the spot instead.
Indulging in Czech cuisine
Czech food is very different to the cuisine of Western Europe: full of soups, duck dishes and sweet treats. I was born and raised in Poland, so it wasn't a completely new world for me, but rather a new twist on familiar dishes. Still, Czech cuisine is very interesting, especially if you're not from Eastern Europe. I don't really have a sweet tooth, but I remember my friend really liked Vetrnik – a choux pastry filled with vanilla cream. There's a plenty of the dishes in the menu, so… I encourage you to go on a culinary haunt!
Accessibility in Prague, Czech Republic
Generally, Prague is (or at least used to be back in 2006 when I visited it!) pretty average when it comes to accessibility. It wasn't among the most wheelchair-user-friendly places I've visited, but I mostly blame it on cobblestone pavements, and these are part of the historic flavour of the city. How accessible Prague was when it comes to hotels, attractions, shops & restaurants and pavements?
Hotels
Hotels in Prague are mostly well adjusted to need of wheelchair users. Finding an accessible hotel is not mission impossible, and the price range is fairly standard. Elevators are mostly in a good condition, and ramps are widely used. It wasn't definitely a shining example of a place that's full of accessible hotels like Rio or Puerto Plata, but it was okay. Only a little better than the average. 7 out of 10 points seems like a fair rating.
Attractions
Attractions are fairly accessible, aside from the Old Town. As I mentioned before, cobblestone pavement is a huge problem for wheelchair users, and the entire Old Town is paved with it. It's not impossible to access it for wheelchair users, but it will require much more caution than normally,  so it's good to take that into consideration before going there. Still, I would say it's worth it – The Old Town there is absolutely gorgeous. All in all, I would rate attractions for 7 out of 10 points.
Shops & restaurants
Shops and restaurants are mostly adjusted to wheelchair users. Entrances are either flat or have ramps, and as much as you can't access every single place, you can enter most of them. Again, 7 out of 10 seems like a fair rating.
Pavements
Cobblestone pavement doesn't seem like a problem for most people, but for the wheelchair users, it can be problematic. It's everywhere in Prague, so you'll have to arm yourself with patience and caution. It's still possible to explore the city, but you always have to be extremely aware of your surroundings – cobblestone is not super friendly to wheelchairs. 6  points out of 10 is all I can give to Prague's pavements.
Short summary
Prague's a nice weekend getaway destination, as it's vibrant, picturesque and full of history. If you're more into active vacation –  like me –  it's not a place to stay in for longer than a weekend. In general, its accessibility is fine, but not breathtaking. All in all, it's a good place to visit if you're planning to get a taste of Eastern Europe.
If you want to hear more of my travel stories and learn more about Blumil you can easily stay updated by following Blumil on social media!