Falling in love with Barcelona felt natural, as I entered the city for the first time… in 1992. Barcelona was preparing for the Olympics, which were soon to transform a fairly unknown place (outside Spain!)  into a popular tourist destination. I looked at the skies above the city and the sea, painted in all shades of blue, and I knew there was no turning back. Parts of my heart stayed in Barcelona, never to come back. Since 1992, I've visited the city numerous times, and I never get bored of it. White Christmas is exactly the opposite of what I came for to Barcelona, and I got what I wanted. The weather was absolutely wonderful – it was sunny and warm as if it was the middle of September, not December. If you want to finish your year with a big bang, Barcelona is a way to go. What to do there? What to skip there? What to know? More about it below!
Don't forget to the check the first part of Barcelona's rating out.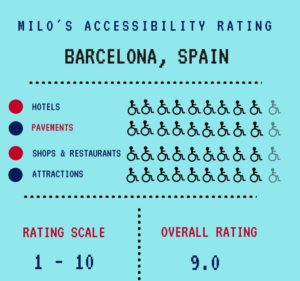 What to skip
I am disappointed to say it, but visiting The Aquarium Barcelona is one of my travelling regrets since it was… uneventful at best.  When I left the place, I was wondering why I wasn't enjoying it too much. At first glance, everything seemed okay, but in reality, it was rather… unimpressive. Out of curiosity, I checked its ratings on google, and I discovered most people agree with me. For 20 euros, you can find more interesting attractions to explore and not become one of the disappointed faces I saw leaving the place.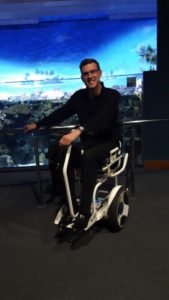 What to do
The Barceloneta Beach is probably the most popular beach in the city. It takes its name from the Barcelona's well-known neighbourhood – La Barceloneta. I love strolling down the beach and just peacefully absorb the magic of the Catalan coastline. My dog Coco also enjoys these unhurried walks, and it's always a must-do of all my visits in Barcelona. The sea is absolutely beautiful, and the place itself is actually accessible. Amphibian wheelchairs, a winch, and life vests – these are all accessible. A voluntary service to assist you if necessary is also provided. The Barceloneta has it all.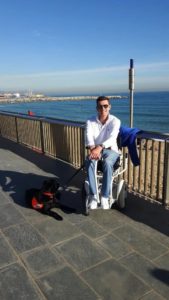 Take a cableway and see Barcelona from above
I absolutely love the sense of thrill you get when you are above the Earth. It is an exciting mix of adventure and wonder. This is why I  jumped at the chance when I found out I could see Barcelona from a very new perspective – straight from a cableway! It was definitely one of the coolest ways to explore the city, and the view was spectacular. Must-do if you want to get off the beaten track!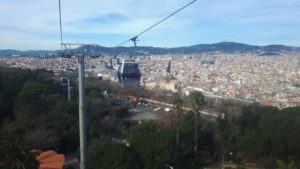 Explore streets of Barcelona
Barcelona's one of these cities, where strolling around the city alone would make you fall in love with it. It's full of small, lovely streets, and atmospheric little shops and cafes that are waiting just around the corner, hidden somewhere behind big commercial shops selling souvenirs. When I am in Barcelona, I often go on spontaneous strolls around the city and explore more and more of its shades. The pavements are not one of Barcelona's problems, so it's not mission impossible to navigate through the city in a wheelchair, especially if it is Blumil.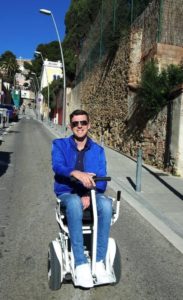 What to see
It's one of the city's biggest squares and it feels like a good introduction to Barcelona, one of these places to start with, when you visit for the first time. It's not my favourite part of the city, but I appreciate its dynamic flavour.
It's one of the biggest and most beautiful parks of Barcelona. One of these places where you can just take a breath after you're too tired to explore the city. You can find a small lake, a majestic fountain, and the Barcelona zoo there to name just a few attractions. I definitely liked the place, and I think Coco approved it, too!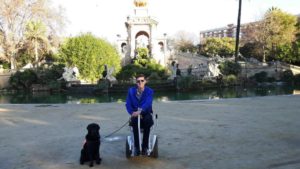 The Arc de Triomf is the triumphal arch leading to the Ciutadella Park.  It's definitely a lovely brickwork, and somehow fits Barcelona's spirit very well. After all, the city's winning all popularity races out there right now.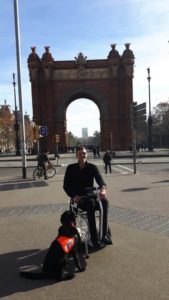 That's the dock that hosted the sailing events for the 1992 Summer Olympics, when I visited Barcelona for the first time.  The view from there is lovely, especially at night. The place marks the beginning of everything for Barcelona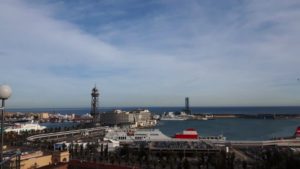 Accessibility in Barcelona
Hotels
Hotels in Barcelona are definitely among the most accessible in the world. The city's generally well prepared to cater for needs of wheelchair users, so the range of prices for accessible hotels is wide, and the standard is high. Ramps, great elevators, even pavements – these things are seen as rather obvious in Barcelona when the word "accessibility" is mentioned. The city's not free from small flaws, but nobody's perfect, and Barcelona's already almost, almost there.
Shops and restaurants
Ramps are obvious, so there were not too many restaurants I couldn't access. Most of them are accessible enough for Blumil to get me anywhere I wanted to be. Elevators, again, are a standard.
Pavements
Pavements in Barcelona are, in general, even. There are some parts of the city that are less wheelchair friendly, but Blumil could handle them with relative ease. There are not too many places which make exploring the city on a wheelchair easy, but Barcelona is among them. It is, indeed, an accessible city.
Attractions
Accessing attractions wasn't a problem in Barcelona. The city council is actively working on accessibility of the city, and I must admit I didn't stumble upon many touristic attractions that weren't even slightly adjusted to wheelchair users' needs. The Barceloneta Beach even provides wheelchair users with voluntary assistance service. I wish other European metropolises were following Barcelona's footsteps.
In a  nutshell: Barcelona is not only one of the world's hottest location, and the visionary city, but also a safe harbour of accessible travelling. The infrastructure, even pavements, and available ramps make it easy, almost effortless to enjoy the city and try everything it has to offer. No matter if you're into adventure, museums, art or good cuisine, you'll find something for yourself there. You might fall in love with Barcelona if you only give it a chance. I did, and it's been over twenty years since that, yet nothing has changed. I think, and hope, it will never change. After all, everything feels better in Barcelona. 
If you want to hear more of my travel stories and learn more about Blumil you can easily stay updated by following Blumil on social media!