Diving in Florida's sunshine was one of the greatest adventures I've ever had, and I like to think I've had quite a few of them in my life. Everything started with a simple plan to visit the USA. Me and my friends were planning to do something memorable for the summer, and going overseas seemed to be a perfect idea. Florida was an obvious choice: we wanted the sunshine, fun and no room for boredom, and that's what Florida's famous for. We had 3 free weeks, and we decided to spend them in the sunny state.  The goal was simple: to see as much as we can in around 21 days, and get to know the place inside out. Mission Florida was a great success, and we managed to get a taste of everything. I want you to experience Florida I fell in love with, so let's put it under the microscope!  What to visit in the sunny state, what to do, and how wheelchair friendly everything is?  The answers are waiting for you below!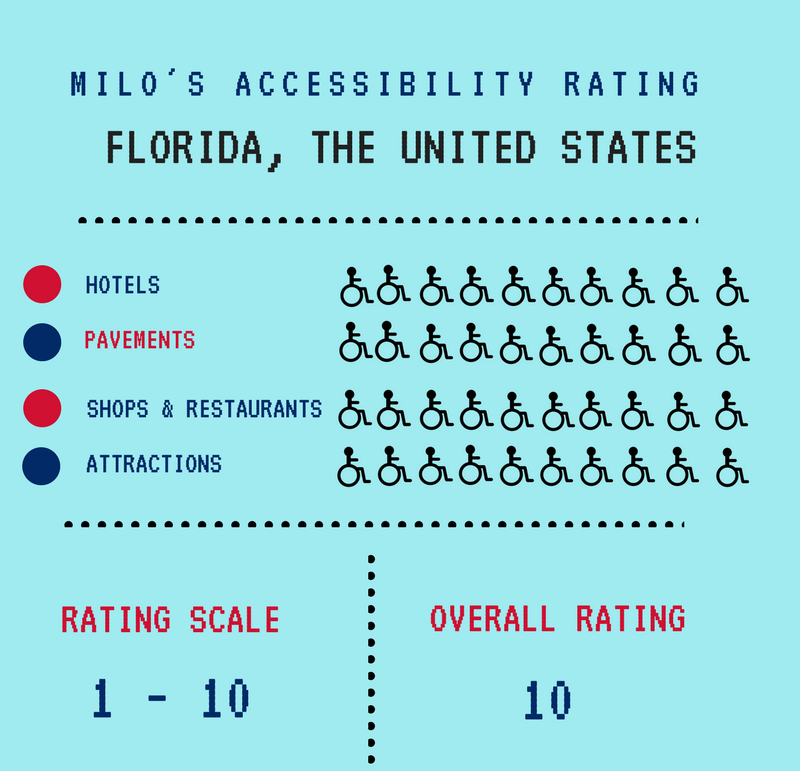 Must-visit
Fort Mayers
City of Palms, as Fort Mayers, is often called was the first stop on our road trip. That's where our adventure started and where all fun began, so it holds a special place in my heart. The city's known for its wonderful beaches and numerous shopping centres, but its history is also interesting. Thomas Edison and Henry Ford had their winter houses in Fort Meyers, making it quite a remarkable place on Florida's map. If you're looking for fun… you'll definitely find it in Fort Meyers!
What to do there?
Enjoy the sun on beaches of Fort Myers
Beaches are definitely one of the best things Fort Myers has to offer. They are sandy, full of attractions and absolutely beautiful. Definitely, must-do, especially if you love the sea and relaxing by the water!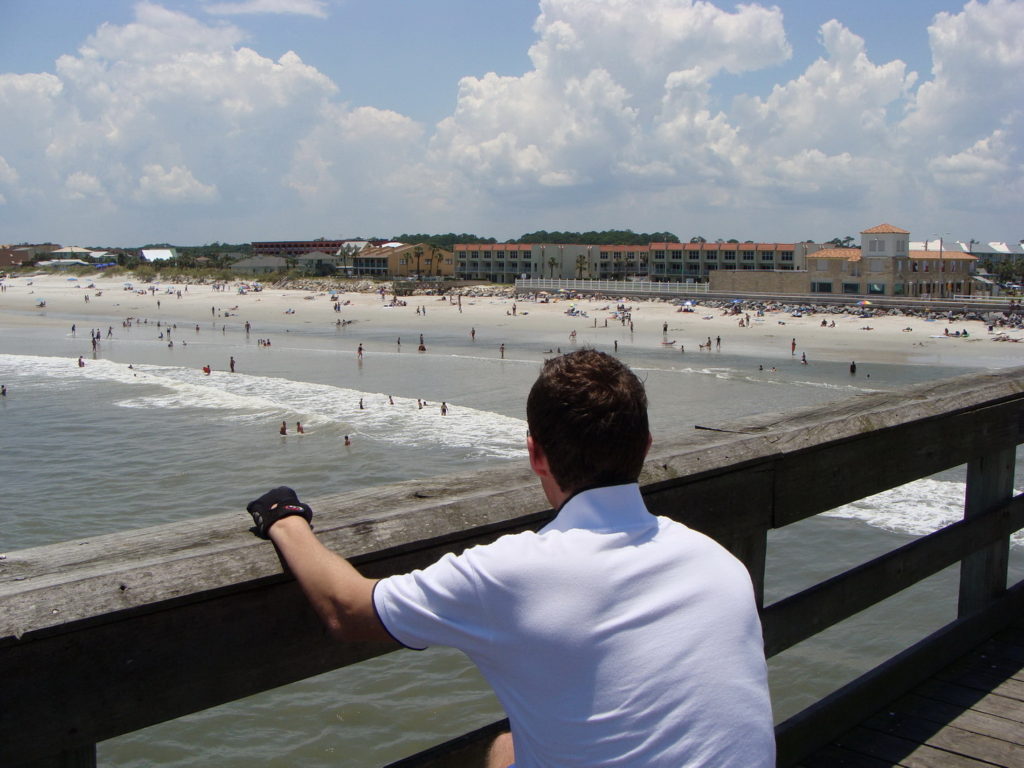 Visit  Lakes Regional Park
Fort Myers may be known for its beaches, but it has much more to offer – lakes included!  Lakes Regional Park has two lakes and quite nice picnic tables. In other words – it's perfect for a relaxing day. It's definitely not what you would expect of Florida –  but in the best possible way.  I was really enjoying my time there, recharging my batteries and relaxing my mind. It gets a big "yes" from me!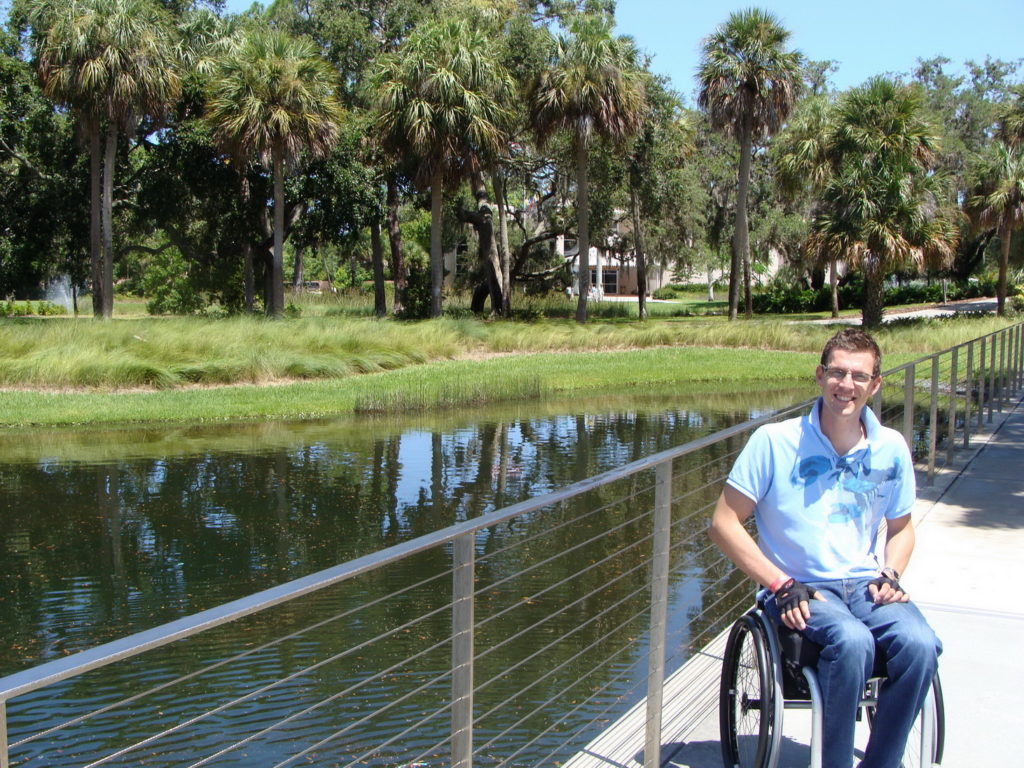 Explore the local history
Southeast Florida History Museum and The Edison and Ford Winter Estates would be a great addition to your to-see list if you like history.
Drive through the McGregor Boulevard
Numerous palms lined up along The McGregor Boulevard is what this 23.5-kilometre long road is famous for. It sounds like nothing extraordinary, but it makes a great view on a road trip, so I actually do recommend you to take it… just to see for yourself!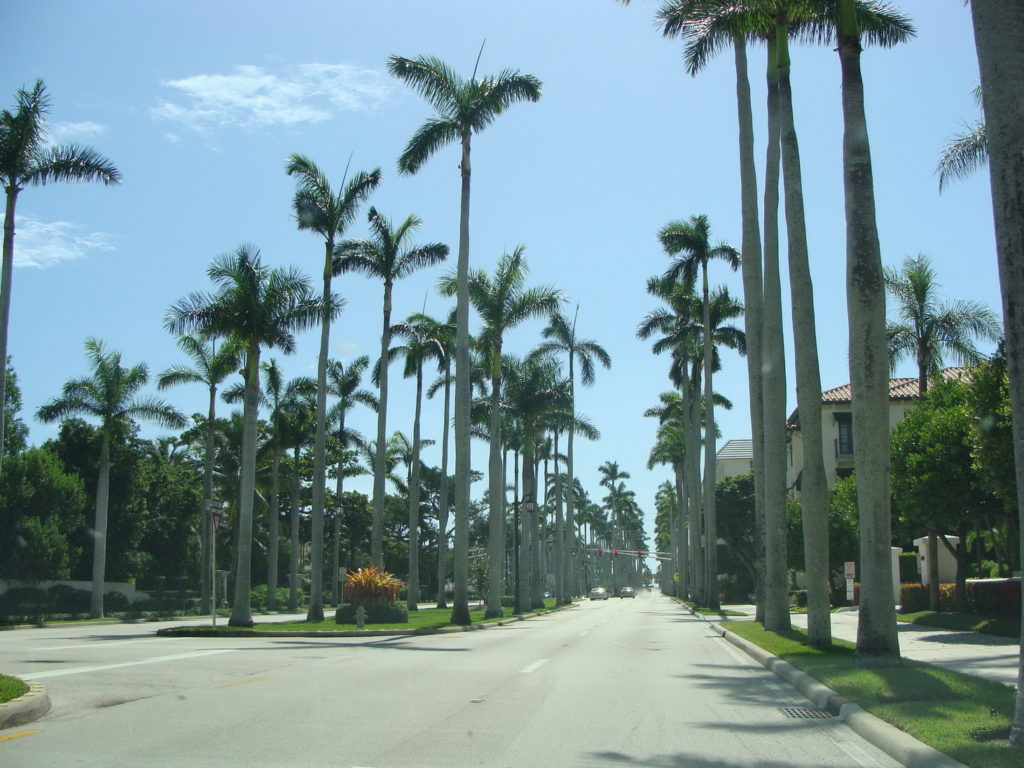 St. Augustine
St. Augustine is the oldest city in the continental  United States, and it dates back to 1565. What's interesting it was founded by Spanish settlers and was the capital of Spanish Florida for over 200 years.  Now its days of the ultimate glory might be gone, but it's still an interesting place to visit. It makes you think of the beginning of everything, and considering how enormous The USA is, it feels nice to go back to the origins. It was definitely one of the places that you just should visit in Florida.
What to do there?
History is the speciality of St. Augustine, so exploring the past is very easy there. The spirit of the gone times seems to float in the air and settle on every building in the city just like dust. Some of the attractions include Spanish Military Hospital Museum,  St. Augustine Distillery Company, St. Photios Greek Shrine and Pena-Peck House – to name a few.
Sarasota
Sarasota it's one of these lovely places, which may not be your favourite but will still fill your head with beautiful memories when you revisit them in your head after the trip's finished.  I liked Sarasota for its effortless charm and I would probably visit it again if I came back to Florida.
What to do there?
Visit The Unconditional Surrender Installation
Unconditional Surrender is a series of sculptures. What's their appeal? They're based on real life photographs and give us another spin on traditional sculpture forms. The photographs that we are talking about were taken by Victor Jorgensen and they show two people kissing on the streets of New York. It would seem like a normal situation, but those two are complete strangers to each other. See, a U.S Navy sailor kisses a nurse passionately out of joy caused by the victory over Japan, not out of love! The installation's definitely great, and the backstory makes it even more interesting. It's one of the nicest things I've seen in Florida.
 Visit Marie Selby Botanical Gardens
Marle Selby Botanical Gardens are special because they are mainly dedicated to orchids and bromeliads, and that's the only place in the world like that. If you love what's unique, you're likely to enjoy it a lot!
Accessibility in Florida
Hotels
Accessibility in Florida is wonderful. Wheelchair friendly hotels can be found in all price ranges, ramps and elevators are the absolute standards and people are extremely helpful. Rooms are adjusted to wheelchair users' needs just as the leaflet says, and navigating inside hotels is made as easy and intuitive as possible. In general, Florida knows a lot about accessibility and it shows.
Shops and restaurants
The presence of elevators, ramps, and low thresholds is obvious in Florida. Accessing various locations is not too difficult, so the situation couldn't possibly get any better.
Pavements
I was impressed by pavements in Florida. They were very even, and their surface was good enough for my wheelchair to move effortlessly. Americans definitely understand the definition of "accessible" very well.
Attractions
All attractions are catered to needs of wheelchair users, so accessing them is not a problem. I could easily enjoy everything Florida had to offer.
To sum up, Florida and boredom never go together. You could spend weeks exploring the state and you would always find something new to fall in love with. Diving in Florida's sunshine is the easiest thing on the earth, but Florida's much more than the sunny weather and sandy beaches. It's the place where everything began, it's the place where the fun is in the air, and where diversity is the spice of the life.  I loved every single second I spent there, and I would go there again and again and again. After all,  the taste of Florida never goes out of style with its sunshine-and-fun filled menu.
To hear more travel stories follow Blumil on social media!