Chasing the sun in Malaga was perfect for long summer days when work could be put away and a body could go straight into the vacation mode. It was July 2006, when I decided to spend my holidays in a Spanish style and get a taste of  Costa del Sol.  Located in the south of Spain – Andalusia – region is said to be one of the most beautiful parts of Spanish coastline. It sounded great and given that its name means "Coast of the Sun", I knew it was everything I needed. Sometimes to feel like a superhero, you need a little bit of vitamin D, so I made sure my body would get about enough of sun time. After all, Spain and good weather go together like a dream! My journey began in Malaga, but that was just the beginning. On my way down the coast, I visited Marbella and Puerto Banus. More about everything I did and saw below! Of course, accessibility's included – after all… it can make or break any vacations.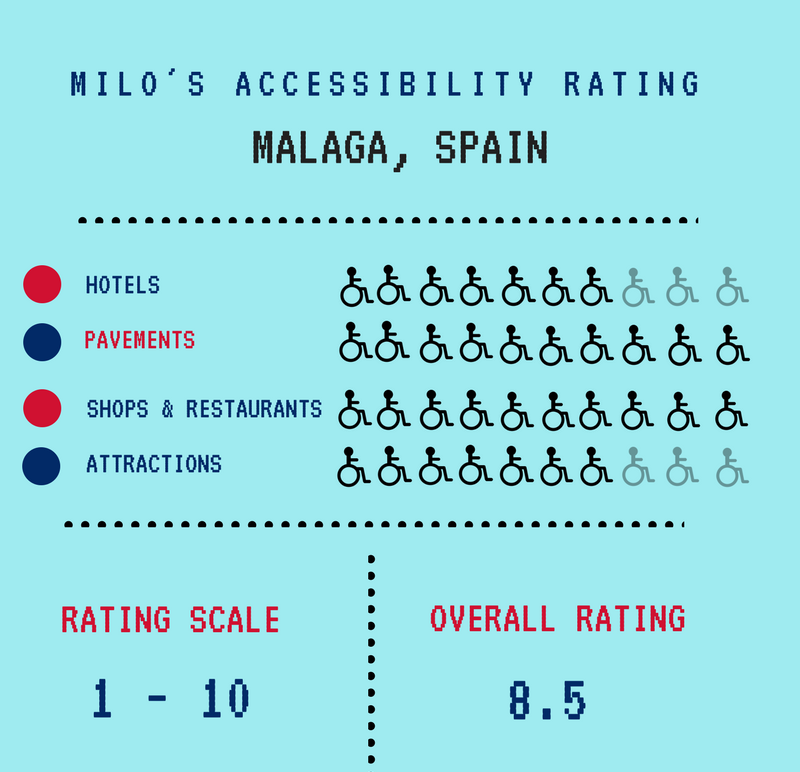 What to do
Málaga is the second – after Seville – most populous city in Andalusia, and it's southern to the core.  Everything about the city looks and feel Andalusian. What do I mean by that? Well, Andalusia is probably one of the richest regions in Spain when it comes to a diverse heritage.  Phoenicians settled there in 7th century BC, then Romans and eventually in the 8th century it was taken over by the Moors, who were Muslims. Their presence left a mark on Andalusia, and oriental vibes are still alive and well between streets' of small towns all across Andalusia.  The diverse character of the city shows in its attractions: we can explore two Moorish castles, Roman theatre, Málaga Cathedral and of course… Picasso Museum! Yes, the famous painter was born in Malaga! Aside from all historical sites, Málaga's known for how laidback and fun it is. Many tourists are allured there by wonderful beaches, and to be honest… So was I! I wanted to get a taste of history, but I'm definitely not sunshy, so I was having fun at the beach. Malaga's perfect for vacations, since it offers a little bit of everything. The mix of great history, sandy and sunny coastline and lively night(and day) life was definitely enough to fall in love with Málaga.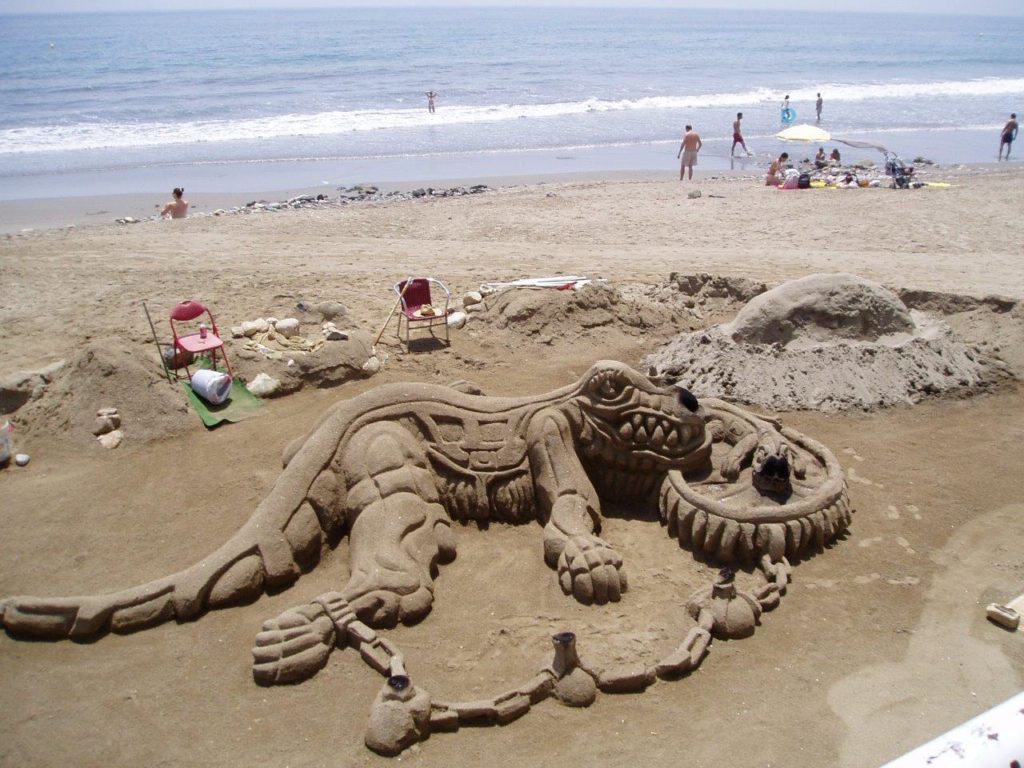 Breathe in the beauty of Marbella
I might have praised Málaga a lot, but it's Marbella that's said to be the most beautiful city out there.  Situated on the  Mediterranean Sea, it looks like it was taken straight out of the touristic leaflet, and it fact – it is. It is full of luxurious resorts for all inclusive holidays. The reason is a wonderful mix of history (Phoenicians, Romans, Moors and then Spanish were all there, just like in Málaga) but foremost – wonderful beaches. The entire coastline's simply out of this world, but in Marbella, beaches seem to be more sandy and beautiful, however, it sounds. The city can also take pride in lively nightlife and well-developed touristic infrastructure, but since it's smaller than Málaga, it has a calmer vibe. Paseo Marítimo –  beachside promenade – was definitely one of the loveliest things in Marbella. I loved strolling down the promenade and enjoying the beauty of everything I had in front of me. What impressed me the most there, though, were pavements! Easily one of the best, if not the best, pavements I've ever seen in my life. They were so incredibly even that my wheelchair seemed to be floating. Ladies and gentlemen, when it comes to accessibility – Marbella's doing it right!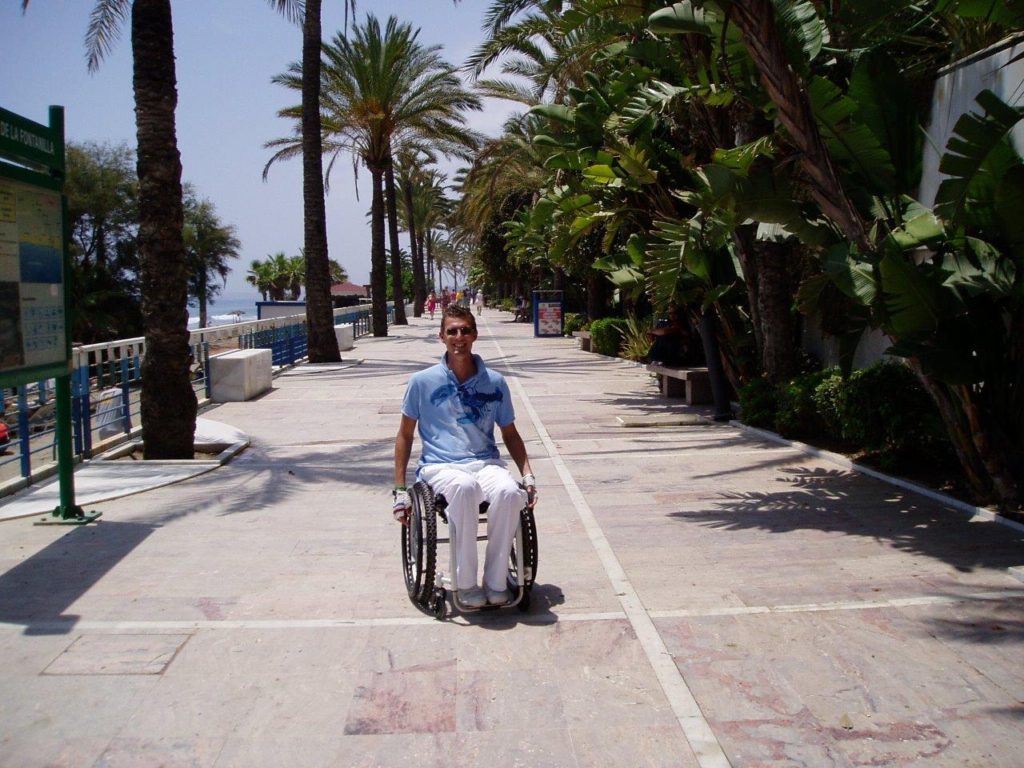 Get a taste of luxury in Puerto Banus
Puerto Banús is almost synonymous with luxury. It's one of the most popular places on the Costa del Sol, but it's mainly known for its associations with the rich and famous. Both Spanish and international celebrities seem to love the place, and high-end sports cars are a common sight there. The place's filled with shopping malls, restaurants and cars. I thought it would be interesting to visit it, and since sights there are beautiful I couldn't skip it. By sights I mean not only beautiful sea but also cars…. trust me, I'm a big fan of motorization, so it was like a mini paradise to my inner car fan. After all,  not many places are home to so many Lexuses, Ferraris and Lamborghinis!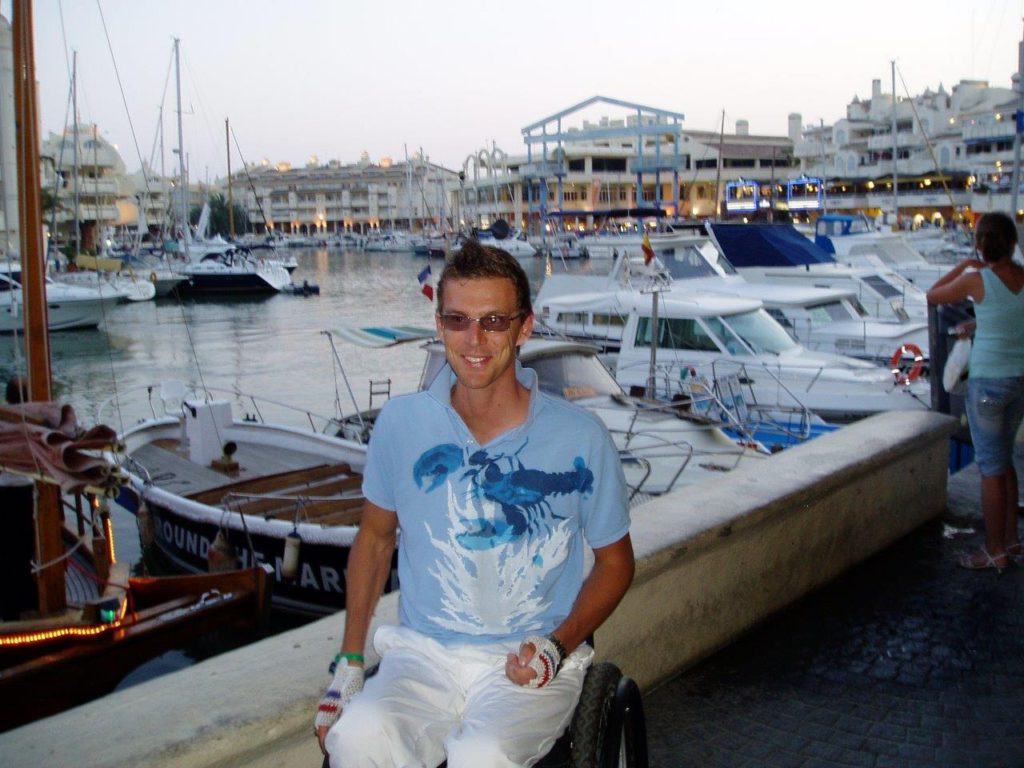 Accessibility
Hotels
Hotels were catered to wheelchair users' needs and generally, there were no problems with elevators or rooms' accessibility. The only drawback would be the price. It was difficult to find something that would be wallet-friendly and still accessible. Accessibility doesn't always have to cost a fortune – Berlin's a shining example!
Pavements
As I mentioned before, pavements are absolutely wonderful there. They are smooth, very even and strolling down the street is a true pleasure when the surface's that amazing. Honestly, I was absolutely in love with these pavements. I would love to see other cities follow Malaga's and Marbella's example.
Shops and restaurants
Just like pavements, shops and restaurants were perfectly accessible. No high thresholds and elevators present if needed. I could access every place I wanted.
Attractions
Attractions are mostly accessible, but not all of them can be easily accessed. There's still some work to be done, but everything's heading in a good direction.
To say Costa del Sol is only the sun, the sand and the fun would be a big understatement. Yes, it's full of wonderful beaches, the sunny weather's almost always guaranteed there and nightlife's definitely top notch, but there's much more to the Coast of the Sun than its Medittarean charm. It's full of wonderful history, open people,  great cuisine and the sunshine present in every atom of the region. Everything's full of sunshine there: people, places, objects. The laid back vibe seems to be all over every corner of Malaga, Marbella and Puerto Banus. After all, in Andalusia youth has no age, and that's where all the fun begins. 
To read more travel stories follow Blumil on Facebook and Instagram!