I found my paradise in a wheelchair friendly Singapore, and I madly fell in love with the city, which caters to everybody's needs. It was everything I was looking for: modernity, wonderful architecture, and cleanliness. I was in awe and with each building appearing in front of my eyes my fascination with Singapore would only grow stronger. Singaporean design has something genius about it and it would fill me with the appreciation for human thought. Since so many things about Singapore captured my imagination, I would love to share them all with you. After all, sharing is caring! That's why you can read more about my Singaporean experience below!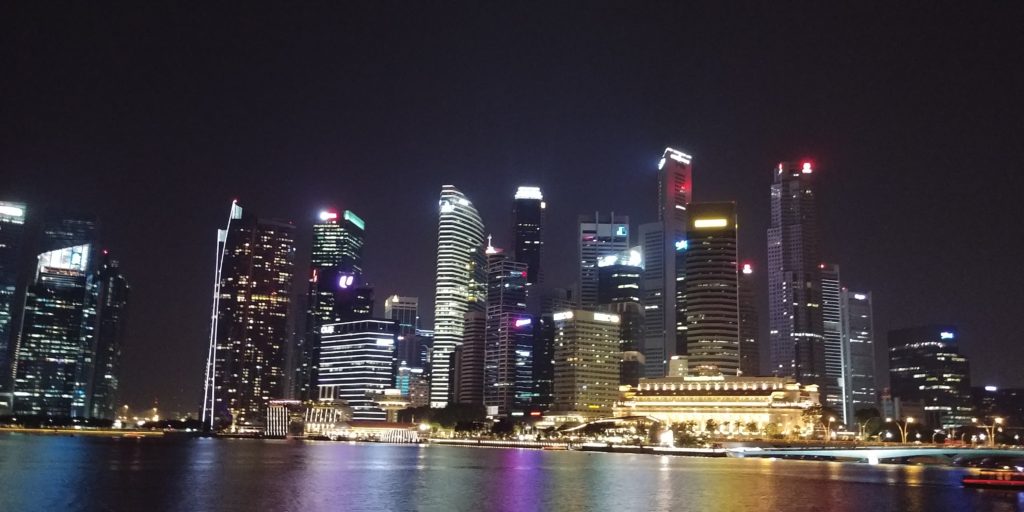 5 reasons to fall in love with Singapore
While most of the cities bloom at night, I believe there is something special about Singapore. Its modern vibe works perfectly with city lights and breathtaking visuals. It seems like architecture and technology are always in sync, and it gives the city very futuristic edge. While luminous city view is always something to admire, it works particularly well with the sleek design and interesting shapes that Singapore is made of. It is definitely a good city for night owls. Receipts? Singapore takes pride in the first in the world night zoo. "Night safari" opened in 1994 and features over 1000 different animals. It is only one of numerous activities that you can do in the city at night. Since I like night adventures… 10 points for Singapore!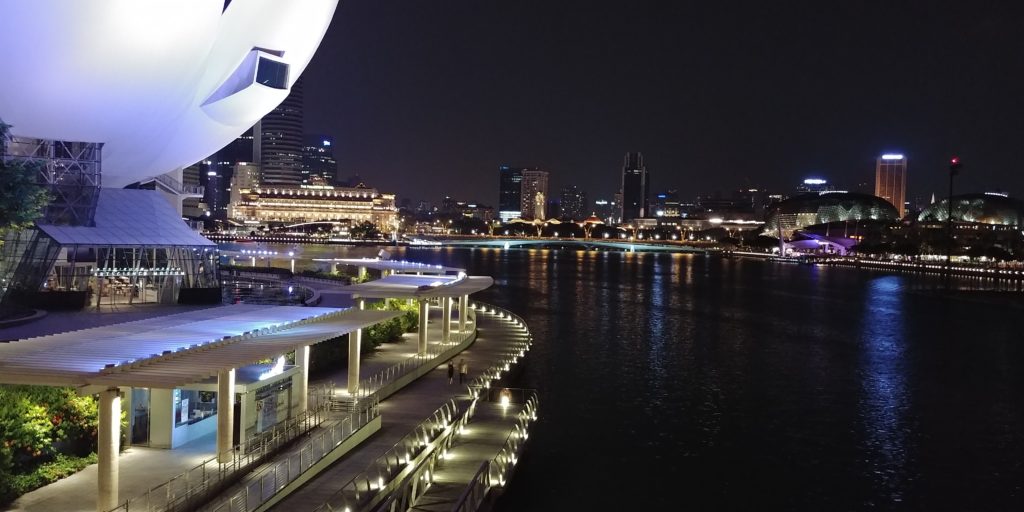 It is incredibly wheelchair friendly
As I explored Singapore in my manual, not electric wheelchair I can fully vouch for the city's accessibility. If it is so easy to navigate in a manual wheelchair, it must be effortless for electric wheelchair users. Strolling between lovely streets and stopping in many little shops and restaurants was simply a piece of cake. When it comes to accessibility, Singapore is definitely doing it all right!
Singaporean cuisine is top notch
First of all, I can appreciate good cuisine and I absolutely enjoyed everything Singapore had to offer. It was an amazing fusion cuisine with Chinese influenced elements. I would recommend everybody to take a tour of Singaporean flavors, as their taste stays on the tongue longer than rules predict. Rather than ordering something you know, give the local cuisine a chance. You will not regret it!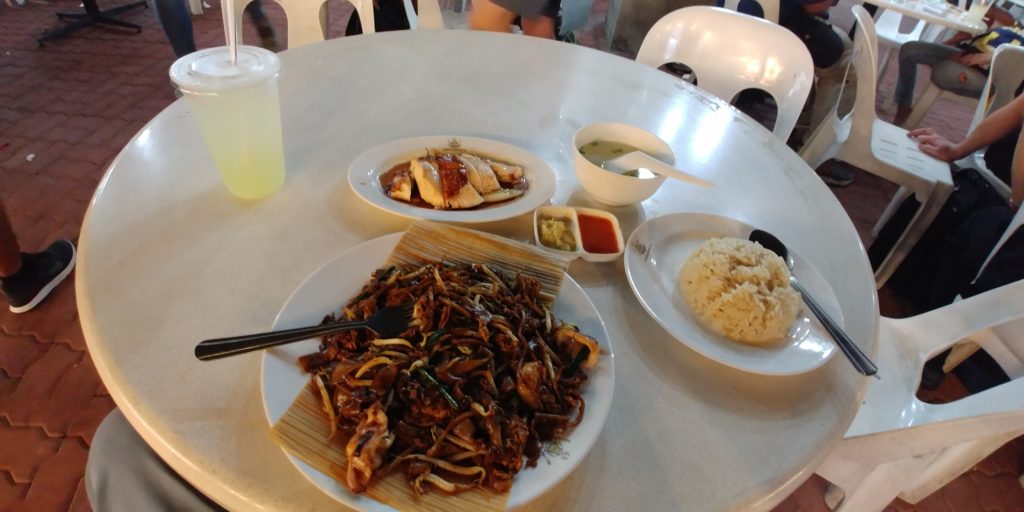 Gardens by the Bay is one of my favorite places in Singapore. This 101 hectares garden is located in the centre of the city and it can completely take your breath away. It is a wonderful green space for a daily relax and at night it illuminates with beautiful lights. What else could I ask for? Well, since Singapore likes to surprise me, it turned out its gardens had a futuristic edge to them, too. They take pride in the world's tallest man-made waterfalls. The first waterfall like this was created in Singapore in 1971. Generally, Singaporean spirit connects human design with nature and effects are spectacular. It is definitely not something to miss out! I was blown away by the modern magic of the city. In Singapore, modern beauty makes you forget about gravity and the world. Everything becomes a beautiful snow of shapes, sounds, and lights. Must-visit!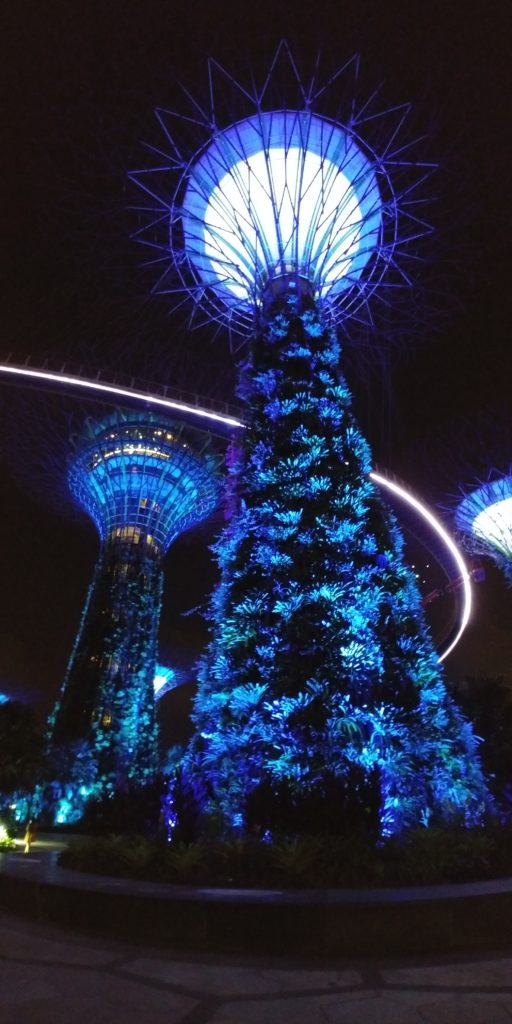 Half of Singapore is a green area. Parks and gardens play a vital role in the city, and diversity of life there is outstanding. Between tall skyscrapers and modern buildings, you can find lush, green areas. In Singapore, you can really have the best out of both worlds. Singapore Botanic Gardens was even created in 1859, before the existence of modern Singapore. Fun fact: it is a UNESCO world heritage site. Whether you use a manual or electric wheelchair, green side of the city is worth exploring!
All in all, whatever you are looking for, you might find it in Singapore. It is modern, green and eclectic. It combines the best of the present, future and past creating a unique visitor's experience. Good cuisine, accompanied by amazing architecture and vivid nightlife are among a few things I will always appreciate. No wonder I have been team Singapore from the very start: it is the only option that feels right. This time… the error wasn't detected – paradise was found! Both in a manual and electric wheelchair.
To read more travel stories follow Blumil on Facebook and Instagram!