Sometimes I fall in love with cities at first sight. Boom, the first time I set my eyes on the streets, I know they will take my breath away. Sometimes, though, I am not quite as amazed. Relaxed? Liking the place? Yes! Blown away? Not really. It's natural to like some cities more than others, but discovering magic in something you've deemed "regular" feels absolutely amazing. Berlin's vibe didn't really capture my heart when I saw it years ago, but I was left surprised and impressed with this city, once I gave it one more chance. I attended IFA – Consumer Electronics Fair – this September and had a chance to explore Berlin again. It turned out that first impressions aren't everything, after all! Below I'll show you around Berlin I liked so much – vibrant and racing towards the future.

Berlin rediscovered (on my Blumil electric wheelchair)
The last time I visited Berlin, I left unimpressed. The city was clean and the history was interesting, but something wasn't quite there. I felt the heavy flavor of the city on my skin, but it couldn't really stick, and Berlin was slipping away from my travel lists. I accepted it, but wonder whether there was more to the city that met my eye. It turned out there was! I just needed to come back and see it again with brand new eyes. What did I see? Where did I go? I'll share my travel story below!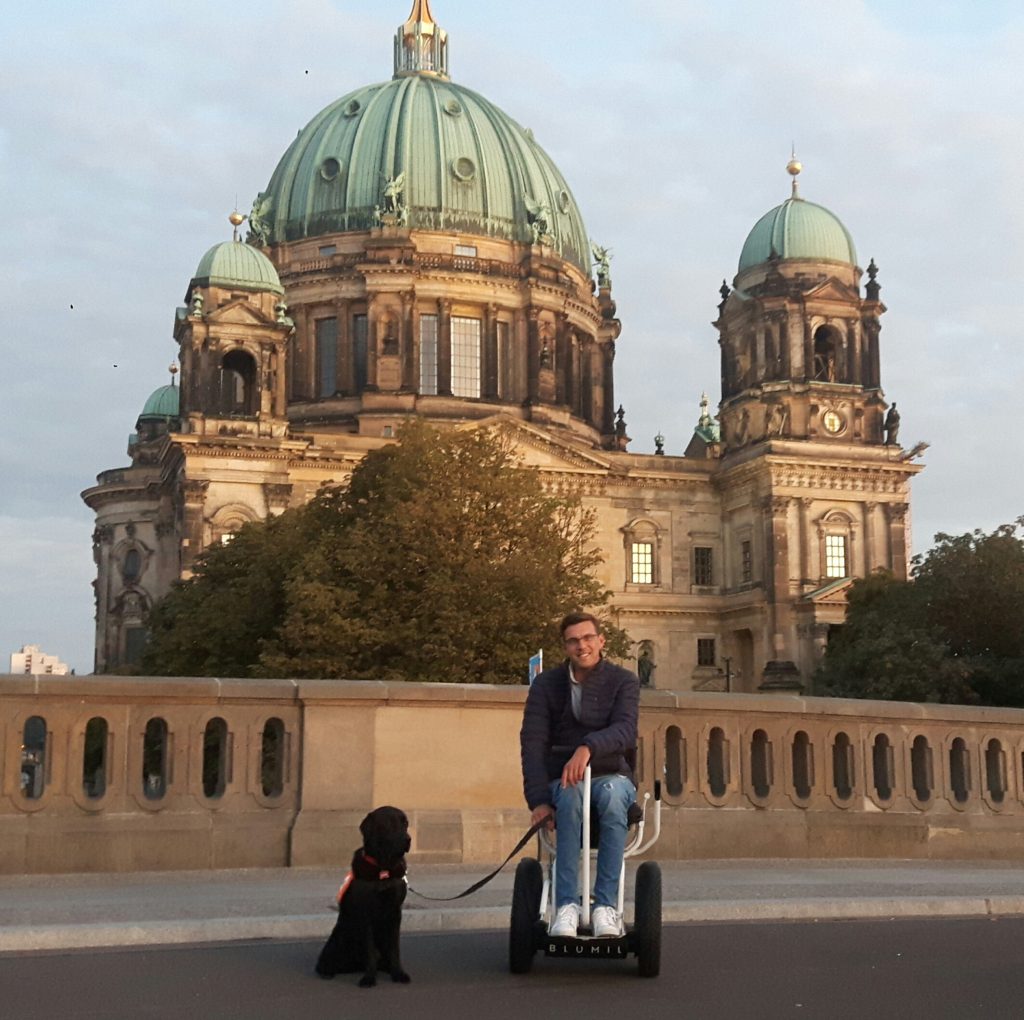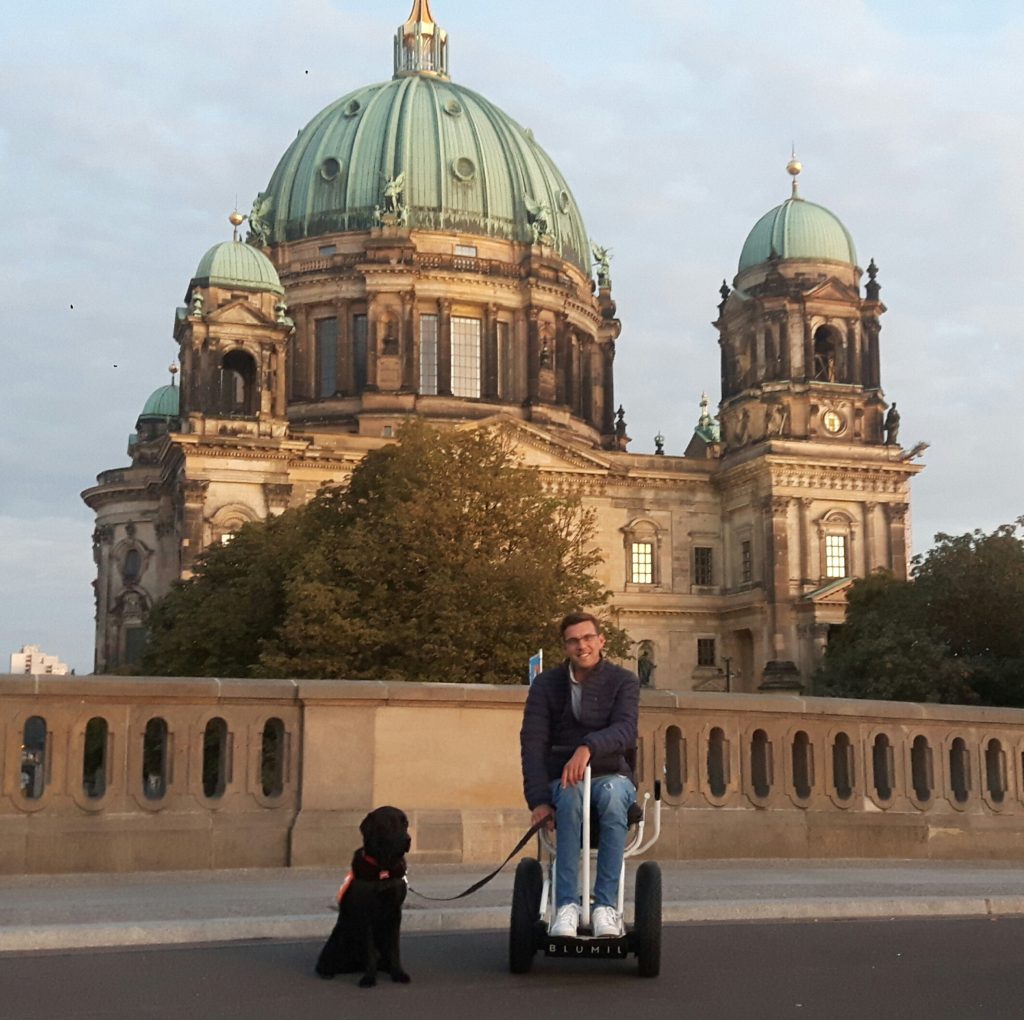 Places I visited in Berlin!
It is definitely one of the highlights in Berlin. The roof terrace gives a wonderful view of the entire city and trust me –  it's quite spectacular. Berlin seen from heights comes to life in millions of colors and shapes.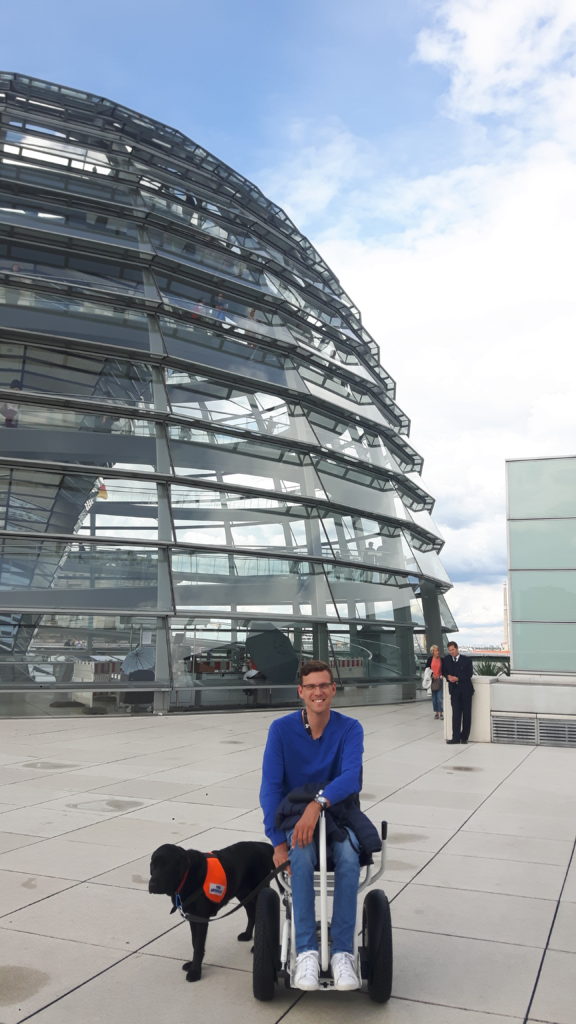 For me, Bundestag was an absolute number one for 3 reasons: it was modern, gave a great view of Berlin and was absolutely free. Yes, you've heard correctly: you can visit Bundestag without spending a penny! The only requirement? Register for visiting ahead of time.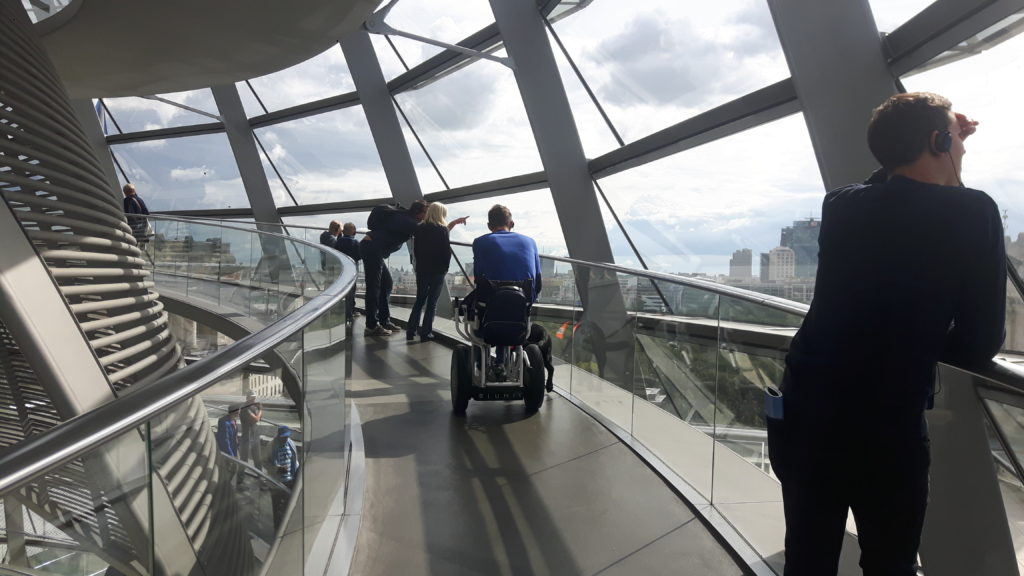 The way you explore Bundestag is very simple: you circle the dome around. There are audio guides available and they come in a variety of languages.  The audioguide adjusts to our visiting pace and talks about certain buildings just as we see them. I found it brilliant – I didn't have to rush to keep up with the audio guide or pause it all the time, but I could take my time to enjoy everything I had in front of me. I gained so much knowledge and insight about Berlin and I only regret I didn't go to Bundestag the minute I came to the city. Sightseeing would have been much easier if I'd had the info I was given in Bundestag.
Fellow traveler's tip: start with Bundestag if possible! You'll have a clearer idea of what the city looks like, and navigating Berlin will suddenly become easier.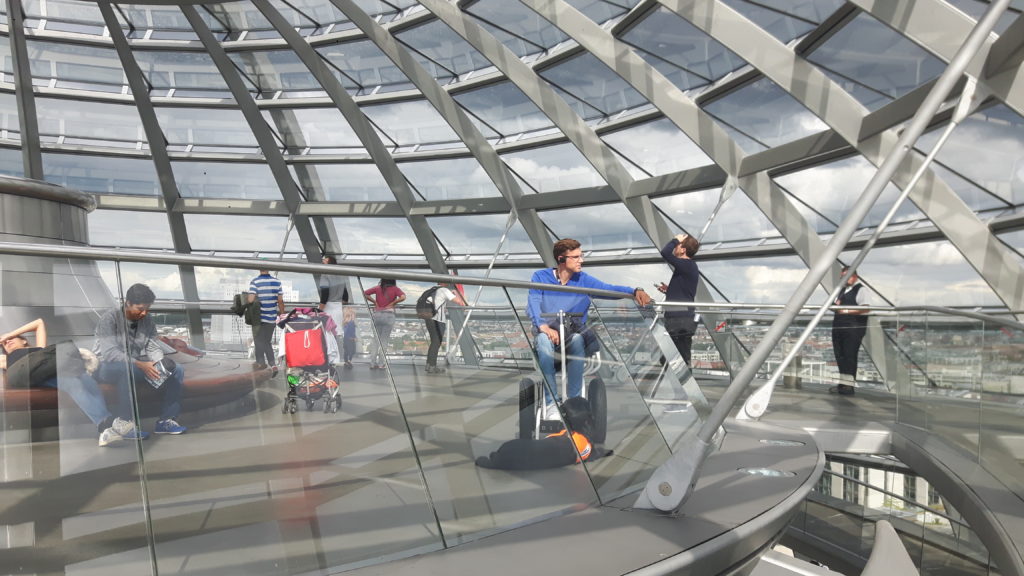 Worth mentioning: Bundestag's very wheelchair friendly. The floor is perfectly even, so it was a pure pleasure to move around the building.
Museum Island

Museum Island is a paradise for all museum lovers. It is an ensemble of five museums and it is listed by UNESCO as a World Heritage Site. I was there in the evening when all the museums were closed, but the place itself was lovely in the moonlight. I would definitely recommend visiting it – it's probably even more interesting from the inside.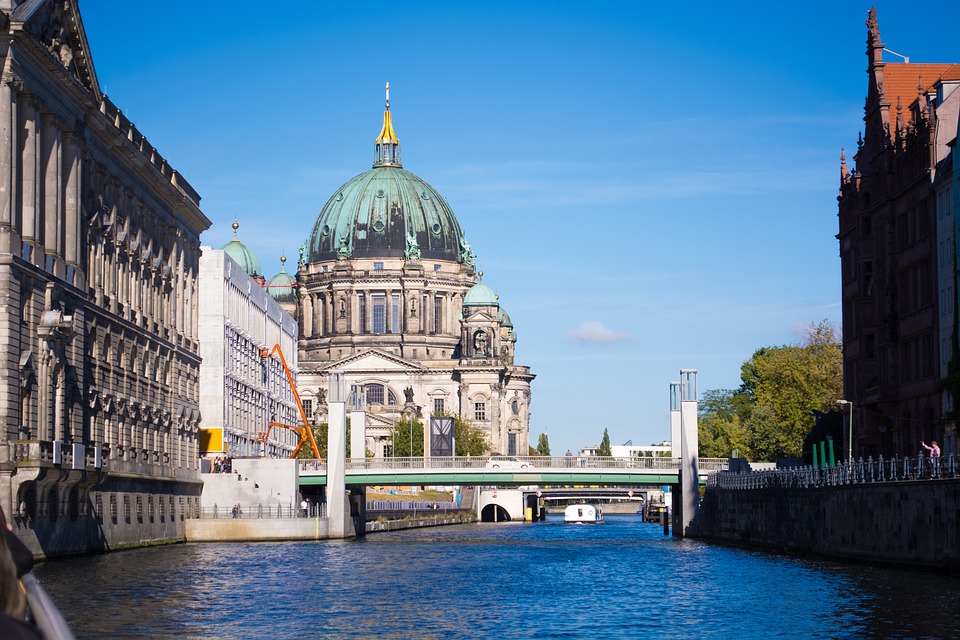 There are 10 Berlin Wall Sites, but during my first visit to Berlin, I visited only one  – Checkpoint Charlie. This time I saw Peter Fechter Memorial and White Crosses Memorial. It was definitely interesting to explore more of the history hidden behind the Berlin Wall.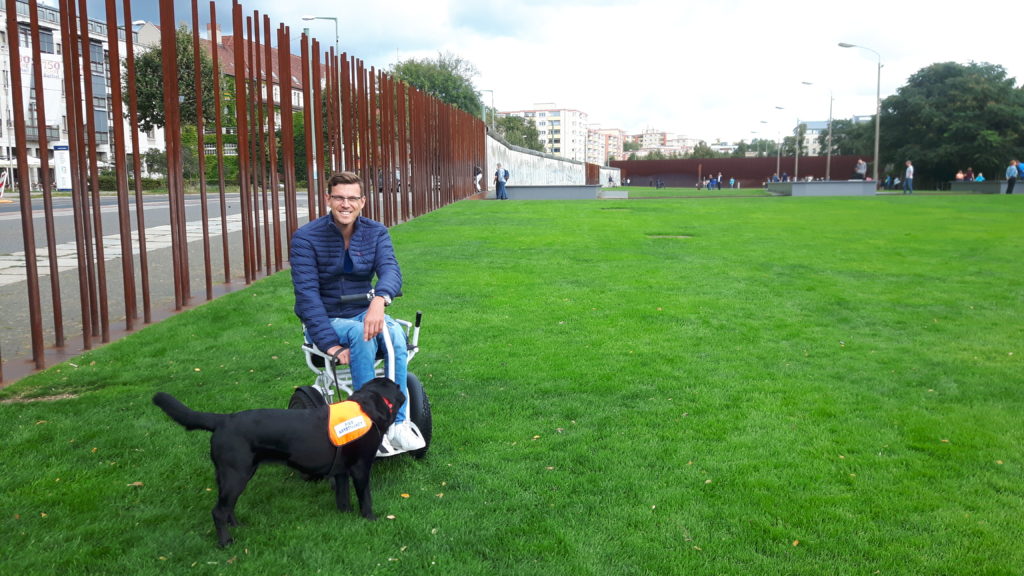 Of course, attractions like Brandenburg Gate, Tiergarten or Berlin Cathedral are must-visit, but it's worth to explore a little bit more and see many faces of Berlin. After all, you never know what you may discover. I was rather Berlin-sceptic and by the end of my stay there, I wished I had a few more days to see everything the city has to offer. 
Accessibility in Berlin
Hotels
Accessible hotels and Berlin go together very well. Surprisingly, accessibility in Berlin is wallet-friendly – it's possible to find an accessible hotel room in almost every price range. Ramps and elevators are a standard, and hotel brochures are often quite close to reality. German hotel service's definitely more than satisfying and it continues to evolve.
Pavements
Pavements in Berlin are definitely among the best I've ever encountered. I am excited to tell you they've even become better since my last visit. Their surface is even, curbs are not everywhere. Navigating through the city is definitely not mission impossible. In fact, it's way less troubling than strolling around most of the European capitals – for example… Prague.
Shops and restaurants
Ramps and elevators are so obvious in Berlin that there were not too many places I couldn't access. Shops and restaurants definitely manage to cater to needs of wheelchair users. It's definitely something Berlin should be proud of.
Attractions
A vast majority of places is accessible (Bundestag is definitely the winner when it comes to accessibility!) but there are some, which would score 0 on any accessibility rating. That's absolutely something the city should work on, especially considering the city's not too far away from perfection.
Important note: Berlin's one of the most accessible European cities I've visited, but it's not 100% wheelchair friendly. Still, with Blumil electric wheelchair on my side, I could enjoy the city without thinking a lot about pavements. I believe it's relatively not difficult to navigate there on a wheelchair in general. 
Berlin rediscovered has many colors, flavors, and shades. It has both soft and harsh edges and it's racing towards the future like a pro. It's the city, which remembers about the past but has eyes set on the future. It's the city of innovation and tradition, and I am happy I could see it again. After all, travel second chances may be everything we need to finally find the magic of the city. I found magic in Berlin after some time, but as they say: better late than never! 
To read more travel stories follow Blumil on Facebook and Instagram!