In Venice, where gondolas take you on the greatest adventures, and walls hum Carnaval songs, times flies differently. Crowded streets, smartphones waiting for the right angle, and thousands of fridge magnets, may remind us it's the XXI century, but the walls and the air tells a story of its own. In Venice,  history is the mayor, and it friendly invites everybody to explore everything his city has to offer. Since I had a chance to visit Venice, I am sending you a postcard from Venice with all the info you might need. What to see in Venice? Is Venice wheelchair friendly? The answers are waiting below!

Venice in a nutshell 
The pearl of Italian ports, Venice has captured people's imagination centuries ago, and never lost its enormous appeal. Every year thousands of people visit Venice to taste the magic of the city and trace the old glory, residing between numerous canals. The city is made up of over 100 islands, each of them holding its own secrets. From Medieval Times, through Renaissance, Venice was a power to be reckoned with, as it was the capital city of the powerful Republic of Venice. It is the place, where Marco Polo was born, and where his curiosity was growing before it finally led him to China.  Since Venice's legend gains prominence every day,  I needed to see it with my own eyes. Here I am taking you on a quick tour around Venice…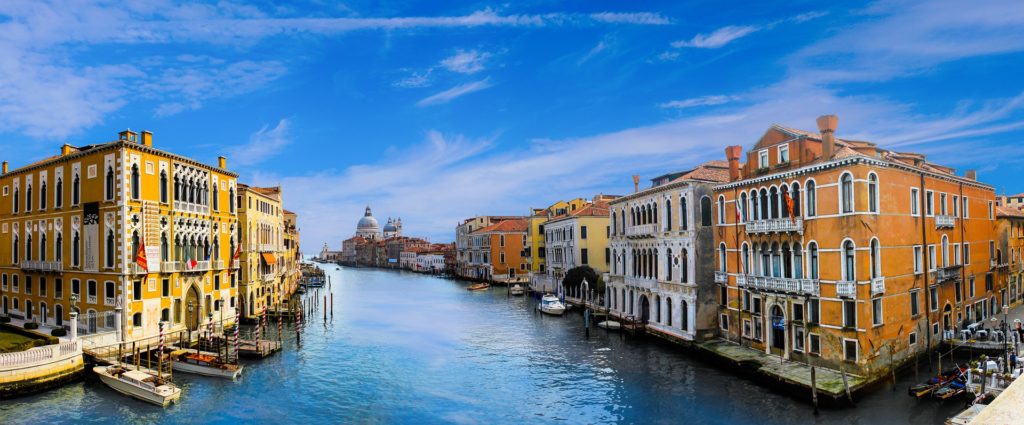 What to see in Venice?
The main canal of Venice stuns with beautiful palaces, colorful decorations, and buzzing life. I can't imagine a visit in Venice without experiencing the allure of canals in beautiful gondolas. The Grand Canal is almost 4 kilometers long and it is lined up with buildings, many of which date back to the Republic of Venice.  It's a true feast for the eyes, especially for architecture fans. You can easily explore the canal on gondolas, water buses or water taxis. It's worth mentioning that water buses are free for all wheelchair users.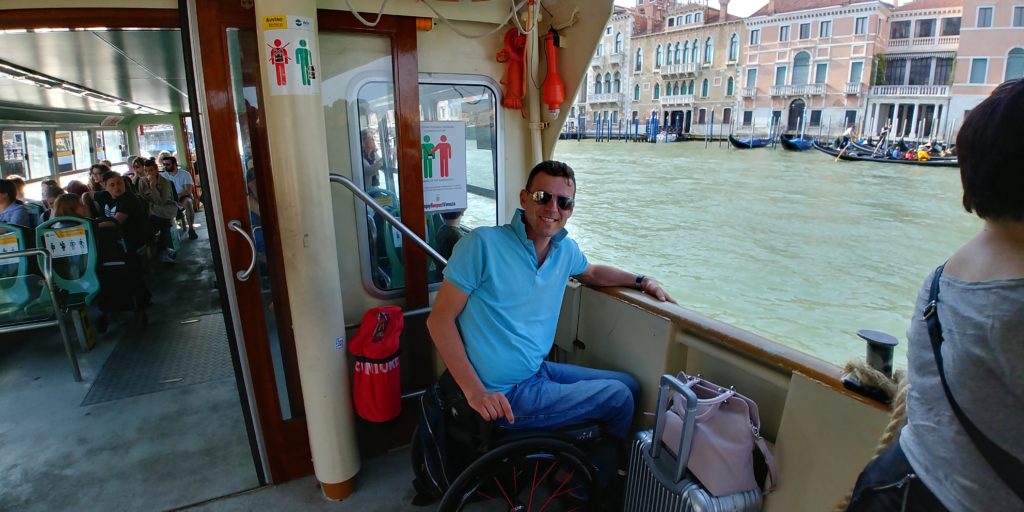 This Basilica has been standing in Venice for more than 1000 years, and it's a wonderful example of Venetian wealth and glamour. The building is absolutely beautiful and rich in details, and I loved it. It's definitely a must-see!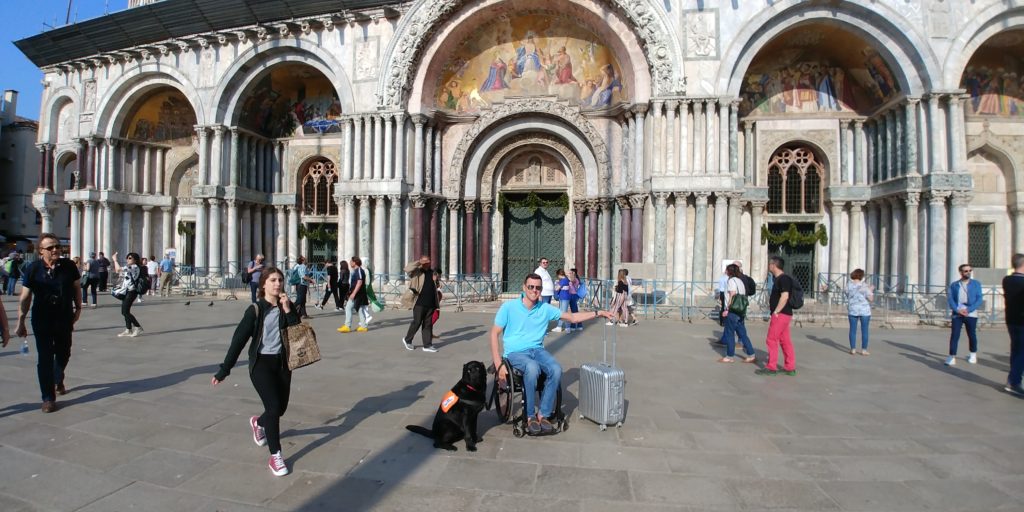 The most important square of Venice never ceases to buzz with life. It's got everything you need for the perfect day: numerous restaurants and a lovely view.  Since it dates back to the 9th century and is located in the oldest part of Venice, it is the place where you can go back in time with a cup of espresso in your hands.
Ponte di Rialto is the oldest bridge, which spans the Grand Canal in Venice. It's made of stone and attracts quite many tourists. Canals and bridges are definitely some of the most interesting things about Venice! Not all of them are easy to navigate, though, so an electric wheelchair is a safer option for sightseeing.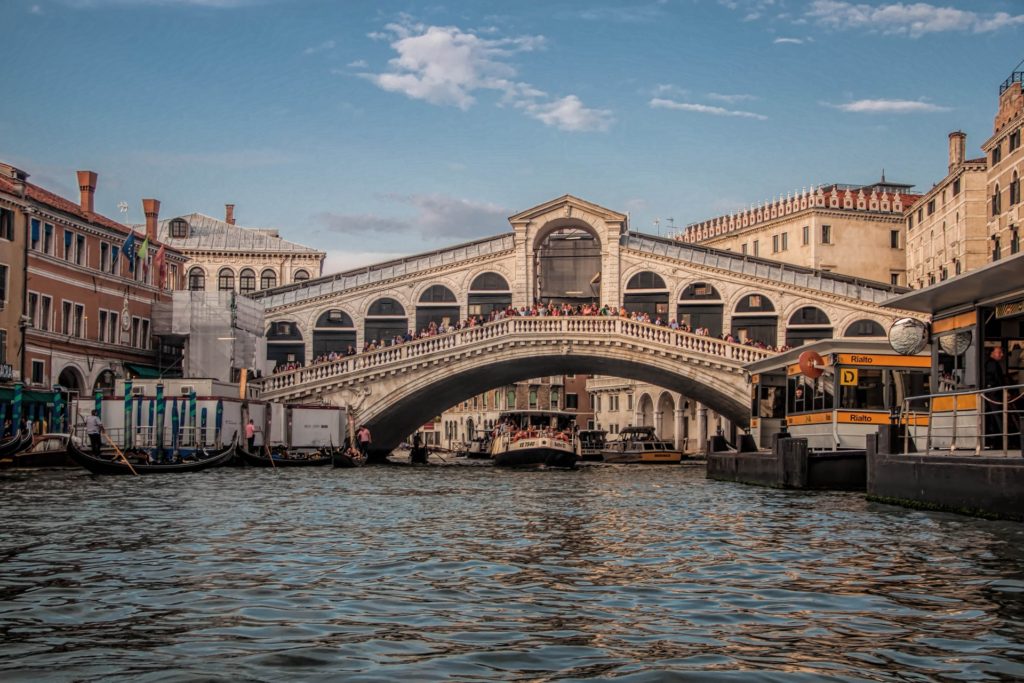 While exploring all the canals can take days, Venice is full of architectural wonders of all kinds. Doge's Palace is a former residence of authorities in the Republic of Venice, and its stuns with the royal-like abundance of details. I would definitely recommend you to see it if you wish to get overwhelmed with beauty!
Peace of mind in the Venetian manner
While Venice is probably one of the busiest touristic attractions in the world, you can still enjoy your vacation in peace. Why? Well, since Venice consists of numerous little islands you can simply spend some time on one of them. I was lucky to reside in a hotel located on such an island. The buzz of the city was all gone as if I was in the countryside miles away. 10 points for Venice!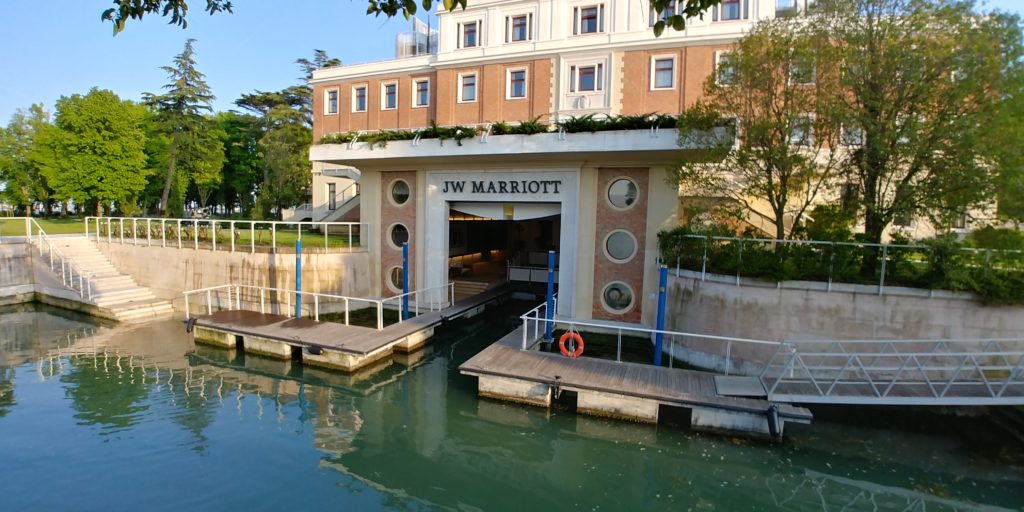 Accessibility in Venice
It's difficult to judge accessibility in Venice because I feel that they're doing a good job… within the realm of possibilities. Because of canals and city's topography, making it 100% accessible is nearly impossible. There are, however, wheelchair friendly gondolas, water buses, and taxis, so things are heading in a good direction. In the all-terrain Blumil electric wheelchair, I could explore the city without problems, but I needed to stay more alert than usual. When there's a will, there is a way… just not a comfortable one!
Hotels
Hotels are fairly accessible in Venice. Finding something wheelchair friendly is not a challenge – most places are fit for wheelchair users' needs. Elevators are mostly in a good condition, and high thresholds are not a problem. Generally, the situation's very decent, especially if you have an electric wheelchair.
Pavements
Because of Venice's historical character, the city can't be perfectly wheelchair friendly. Some pavements are more difficult to navigate unless you use an all-terrain electric wheelchair, such as Blumil City.  Given Venice's age, the city is fairly wheelchair friendly. It's definitely more accessible than Prague, for example.
Restaurants
Most of the restaurants in Venice are perfectly accessible. High thresholds or nonexistent elevators aren't problems to tackle.
Attractions
While most attractions have certain adjustments for wheelchair users, not everything is perfect. For example, The Constitution Bridge has a modern elevator, which seems to permanently out of work. Still, the overall situation is alright, and hopefully, the elevator will be back into the game soon!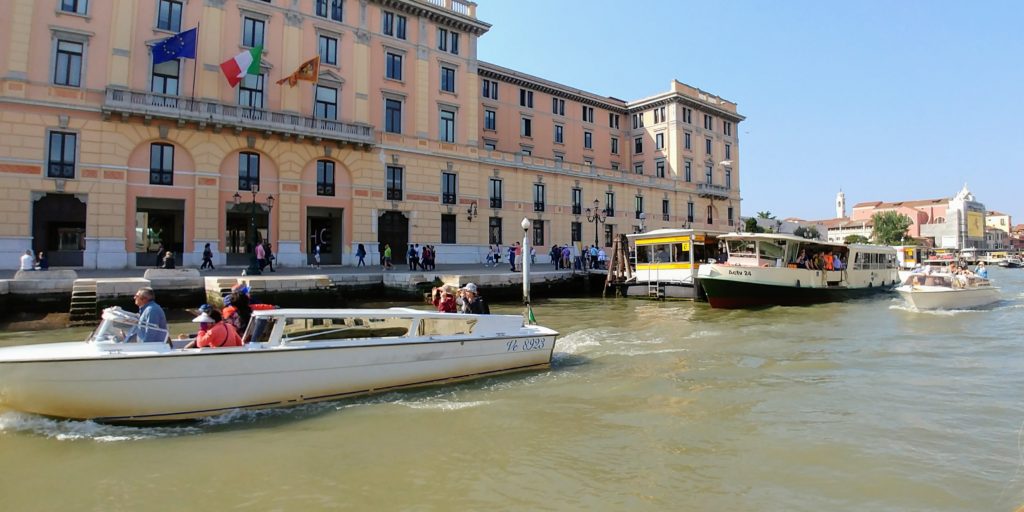 When all the lights go down, Venice is still a beautiful city with thousands of corners to fall in love with. There is enough entertainment there to last you for days, and enough tales to listen to for a lifetime. I don't think Venice is terribly overrated – it has a fair amount of magic attached to old walls, canals, and bridges. It may not be my favorite on the Earth, but it definitely gave me one more reason to think that after all, the world is a truly beautiful place. 
To read more  Blumil stories follow Blumil on Facebook and Instagram! 
Don't forget to check the latest Blumil electric wheelchair model – Blumil City.  Why? Well, Blumil City is pavement-friendly, fast and pretty!