Over hill, over dale, where birds always sing, lies the beautiful land of possibility. There knights and princesses always win against the bad witches, adventures are the daily bread, and curiosity (and candy!) is everybody's number one. What am I talking about? Childhood, of course! The magical period when everything is possible, especially when you use your imagination. Since there is so much to discover, see and explore, a child needs a vehicle, which will never back down from any adventure!  The Blumil Junior electric wheelchair is reliable and safe, yet as cool and fun as Lightning McQueen – within safe limits, of course!  When your children are solving mysteries, radiating joy and making friends, Blumil Junior will be there to safely navigate them into adulthood! Below you can read about 10 reasons why Blumil Junior could be the best electric wheelchair for children… 

10 reasons why Blumil Junior could be the best electric wheelchair for children
It lets your child be independent
With the Blumil Junior electric wheelchair, your child can enjoy the freedom to move anywhere they want. It's the electric wheelchair, which can easily handle uneven pavements and park trails. Hours spent in parks, playing with friends in the open air? Yes – with Blumil Junior it's possible. Since independence encourages confidence, it's the perfect wheelchair for a growing child!
Your child can easily play with peers
A possibility to freely play with their peers is priceless to children. Fighting dragons or spying on the queen is often nicer in the group! Since Blumil Junior is light, compact and can handle a difficult terrain, it will let your child join the fun and save the world with other superheroes. Goodbye limitations!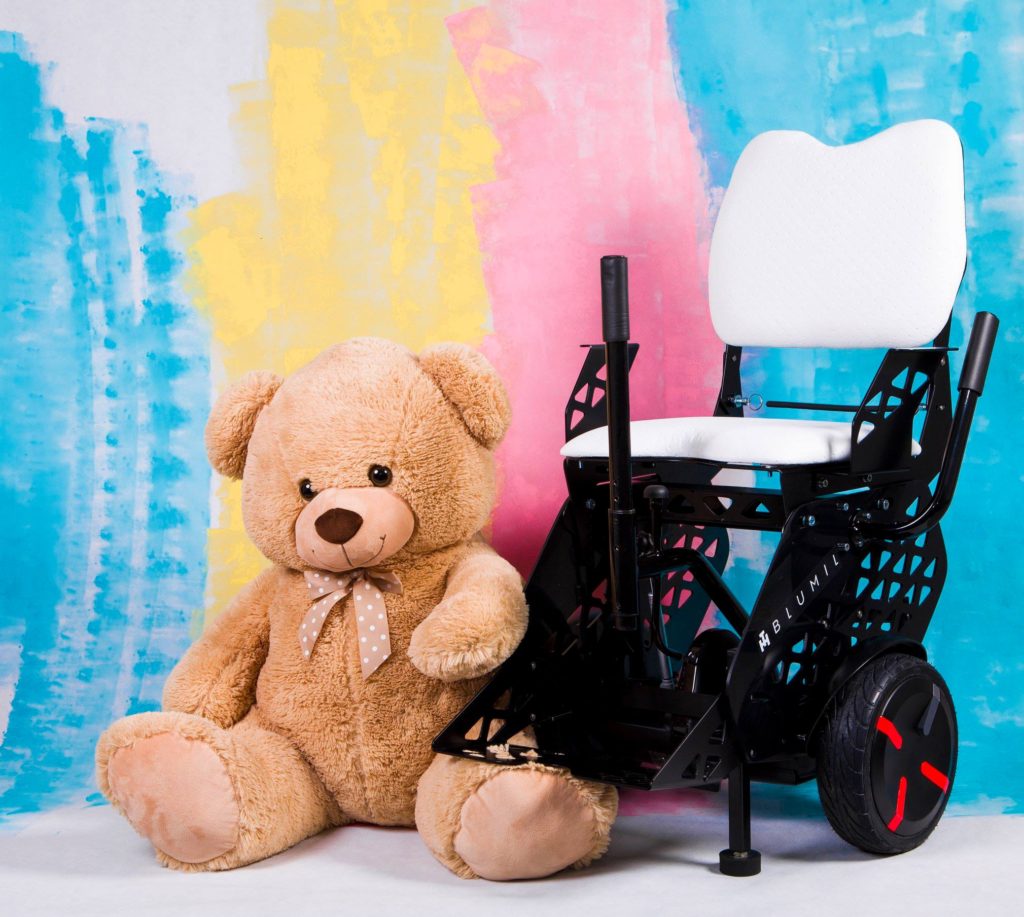 Traveling with the Blumil Junior electric wheelchair is a piece of cake!
While many wheelchairs can't be easily transported, it's a different case with the Blumil Junior electric wheelchair. As it's foldable, light, and compact you can easily transport it anywhere you want. Transport in the Blumil style is just another exciting adventure!
A park-friendly wheelchair? Yes, please!
If you are scared of children glued to their phones, and would rather see them playing in the park, Blumil Junior will be your ally! It's perfect for long strolls around parks, little races on park trails, and even exploring forests. Family trips to natural sites have never sounded better!
You can control the maximum speed
Adventures aside, safety's always a priority. You can adjust the maximum speed of the Blumil Junior electric wheelchair if you are not ready for your child to be the fastest kid in the town! The maximum speed is 18 kilometers per hour, so we know who's most likely to win the family race now!
Adjustable seat height  – the wheelchair always adjusts to a child's needs!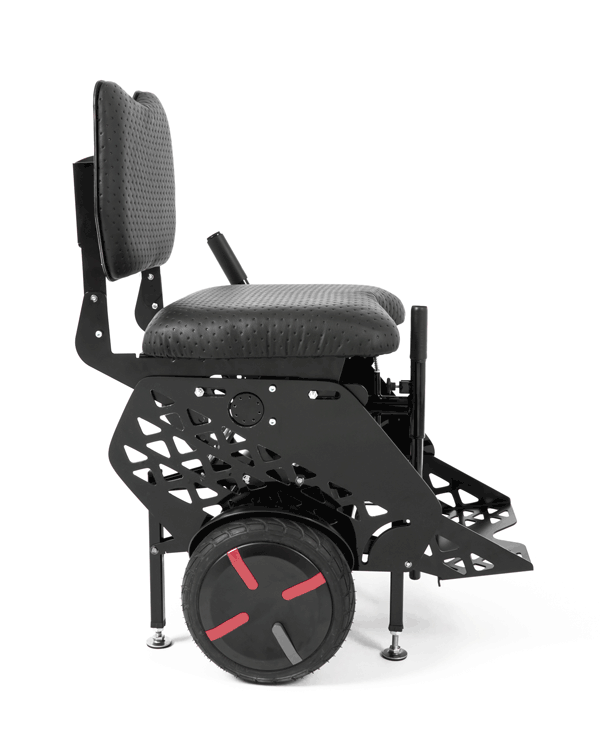 I know that children grow up so fast that anything you buy seems to be only temporary, but that's not the case with the Blumil Junior electric wheelchair! It can serve your child well for years, as it has an adjustable seat height. It will basically grow with your child, and childhood friendships like this are the best! It's a long-term investment that you will not regret!
It's foldable, light and compact – comfortable both inside and outside!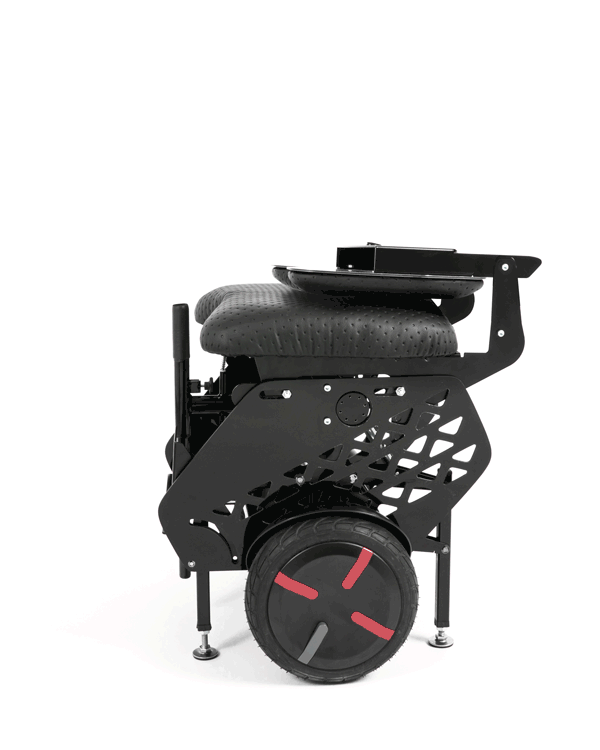 It has a battery level indicator and safe parking mechanism to ensure maximum safety!
If you are suspicious of an electric wheelchair, because of the fact it needs a battery, I have good news for you. Blumil Junior electric wheelchair has a battery level indicator, so running low on power isn't a likely scenario. You'll always know how many races your child can sing up for before you need to charge Blumil Junior again! With the safe parking mechanism, your child will park like a pro without any danger involved!
Blumil Junior is a certified electric wheelchair
It meets all the requirements regulated under EU law.  Blumil Junior electric wheelchair is, therefore, recognized as a safe, high-quality product that you can safely purchase for your child.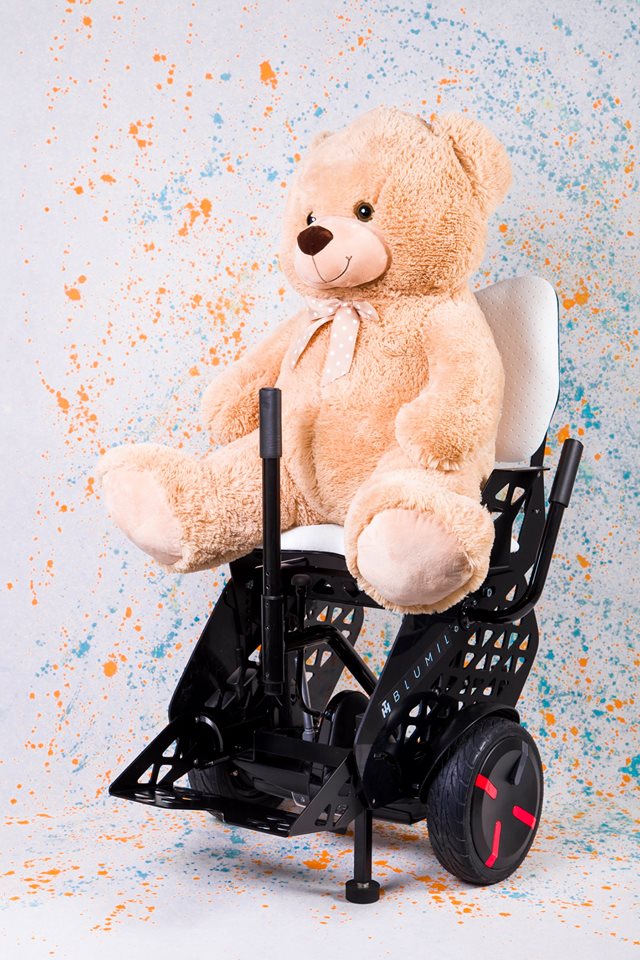 It comes with an application, which will provide you with useful data
In the era of smartphones, apps work as our personal assistants so we're always in control of our lives, wherever we go. With the Blumil app, you will be able to access your user data with ease. From the wheelchair's speed to its remaining mileage, you will always have all statistics in the palm of your hand!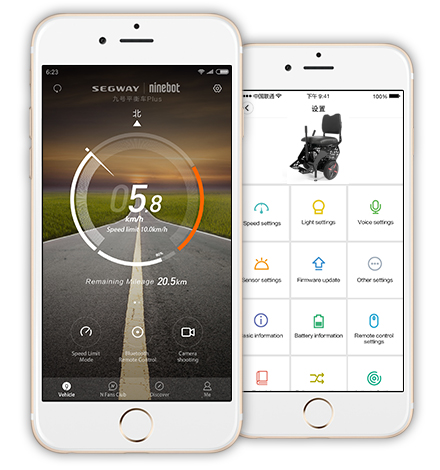 If you are looking for a wheelchair to navigate your child through childhood with ease, Blumil Junior electric wheelchair is the right option! It's modern, safe, nicely designed, and can keep with your child's curiosity to explore the world! It will let your child have fun in parks and forests, travel the world, and enjoy life to the fullest. Choosing Blumil, you choose the infinity of possibilities to experience freedom.  As Olaf would say: some wheelchairs are worth melting for! 
To read more  Blumil stories follow Blumil on Facebook and Instagram! 
Don't forget to check the latest Blumil electric wheelchair model – Blumil City.  Why? Well, Blumil City is pavement-friendly, fast and pretty!